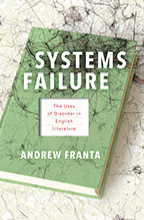 A. Franta, Systems Failure. The Uses of Disorder in English Literature
Andrew Franta
Systems Failure. The Uses of Disorder in English Literature
John Hopkins
ISBN: 9781421427515
232 p.
55 $
PRÉSENTATION
The Enlightenment has long been understood—and often understood itself—as an age of systems. In 1759, Jean Le Rond d'Alembert, one of the architects of the Encyclopédie, claimed that "the true system of the world has been recognized, developed, and perfected." In Systems Failure, Andrew Franta challenges this view by exploring the fascination with failure and obsession with unpredictable social forces in a range of English authors from Samuel Johnson to Jane Austen.
Franta argues that attempts to extend the Enlightenment's systematic spirit to the social world prompted many prominent authors to reject the idea that knowledge is synonymous with system. In readings of texts ranging from novels by Sterne, Smollett, Godwin, and Austen to Johnson's literary biographies and De Quincey's periodical essays, Franta shows how writers repeatedly take up civil and cultural institutions designed to rationalize society only to reveal the weaknesses that inevitably undermine their organizational and explanatory power.
Diverging from influential accounts of the rise of the novel, Systems Failureaudaciously reveals that, in addition to representing individual experience and social reality, the novel was also a vehicle for thinking about how the social world resists attempts to explain or comprehend it. Franta contends that to appreciate the power of systems in the literature of the long eighteenth century, we must pay attention to how often they fail—and how many of them are created for the express purpose of failing. In this unraveling, literature arrives at its most penetrating insights about the structure of social life.
Andrew Franta is an associate professor of English at the University of Utah. He is the author of Romanticism and the Rise of the Mass Public.
SOMMAIRE
Introduction. Unconscionable Maps
Chapter 1. Life without Theory in the Life of Savage
Chapter 2. Sterne and the Uses of Disorder
Chapter 3. From Map to Network in Humphry Clinker
Chapter 4. Godwin's Handshake
Chapter 5. Jane Austen and the Morphology of the Marriage Plot
Chapter 6. De Quincey's Systems
Coda. The Strange System of Human Society
Notes
Index
PRESSE
"An interesting, readable, and entertaining book, filled with excellent insights. Franta's prose is rich, and his argument is ingenious."
— John O'Brien, University of Virginia, author of Literature Incorporated: The Cultural Unconscious of the Business Corporation, 1650–1850
"This engaging, humane book proposes a new way of thinking about how and why the form of the novel emerged intertwined with Enlightenment systems-building. Franta argues that books by Johnson, Sterne, Smollett, Godwin, Austen, and De Quincey compassionately nudged readers towards 'a way of living with the inevitability of failure.'"
— Adela Pinch, University of Michigan, author of Thinking about Other People in Nineteenth-Century British Writing
"That the British novel did not 'rise' during the eighteenth century so much as flounder, that it was a detour in many cases from a social reality routed through individual experience, is just one of the bombshells in Andrew Franta's exciting new study. Systems Failure is particularly apt not just because structures, networks, and other configurations routinely take precedence over reference and character development, but because these same systems fail amid the gyrations of what turns out to have been a self-reflexive medium all along. Beginning with Johnson's Life of Savage and continuing in works by Smollett, Godwin, and especially Austen, Franta tracks a development where the representational assumptions surrounding these writers are challenged from within, yielding something at once familiar and indelibly strange."
— William H. Galperin, Rutgers University, author of The History of Missed Opportunities: British Romanticism and the Emergence of the Everyday