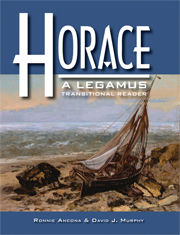 Ancona, R. and D. J. Murphy. Horace: a Legamus transitional reader
Bolchazy-Carducci
EAN: 9780865166769
Ancona, Ronnie and David J. Murphy. Horace: a Legamus transitional reader, Mundelein, Ill.: Bolchazy-Carducci, 2008. xxiv, 189 pages.
ISBN 9780865166769
$35.00 (pb)

Présentation de l'éditeur:

This reader contains 203 lines of Latin selections from Horace(Satire 1.4, 103–126; 1.6, 70–92; Odes 1.5; 1.23; 1.11; 3.9; 2.10;1.37; 1.9; 3.30). It is designed for students moving from elementary orintermediate Latin into reading the authentic Latin of Horace.Introductory materials include an overview of the life and work ofHorace, bibliography, and description of Horatian meters.
Latin selections are accompanied by pre-reading materials,grammatical exercises, vocabulary notes, notes to assist readingcomprehension, and other reading aids. Appendices on grammar andfigures of speech, and a pull-out vocabulary of words appearingfrequently in Horace round out the book's innovative features.
pre-reading materials help students understand underlying cultural and literary concept
short explanations of grammatical and syntactical usage, with exercises
first version of the Latin text with transitional aids:implied words in parentheses, difficult noun-adjective pairings indifferent fonts, words re-ordered to facilitate comprehension
complete vocabulary and grammatical notes on facing pages
post-reading materials encourage appreciation of Horace's style and reflection on what has been read
pull-out vocabulary of Latin words not annotated
second version of Latin text in without transitional aids, but with notes
Ronnie Ancona is the author of Time and the Erotic in Horace's Odes (1994), Writing Passion: A Catullus Reader (2004), Horace: Selected Odes and Satire 1.9 (1999, 2nd edition, 2005), coeditor of Gendered Dynamics in Latin Love Poetry (2005), coauthor of A Horace Workbook (2005) and A Horace Workbook Teacher's Manual (2006), and editor of A Concise Guide to Teaching Latin Literature(2007). Her research interests include Latin lyric poetry, women inGreece and Rome, and Latin pedagogy. She is currently Professor ofClassics at Hunter College and The Graduate Center (CUNY). She has beenan AP* Latin Exam Reader and has conducted College Board AP* Latinworkshops for teachers. For twenty years she directed Hunter's MA inthe Teaching of Latin program. She is coeditor of a series on women inantiquity from Oxford University Press, formerly from Routledge, andseries editor for the new college level Bolchazy-Carducci Latin Readers.
David Murphyearned his PhD in Classics from Columbia University. He taught Latinand Greek for over twenty-five years at the secondary school level,including courses that prepared students for both the Vergil and theLatin Literature AP* exams. He also served as Upper School Head at TheNightingale-Bamford School. He has served as an AP* reader for eightyears, the last as a table leader, and was trained to give AP*workshops for teachers. He has given papers at meetings of the AmericanPhilological Association, the Classical Association of the AtlanticStates, and other conferences and has published on paleography, textualcriticism, and ancient philosophy. Publications include "Critical Noteson Plato's Charmides" in Mnemosyne 60, 2007, and "Doctors of Zalmoxis and Immortality in the Charmides" in Proceedings of the V Symposium Platonicum (2000). Dr. Murphy coauthored A Horace Workbook (2005) and A Horace Workbook Teacher's Manual (2006).