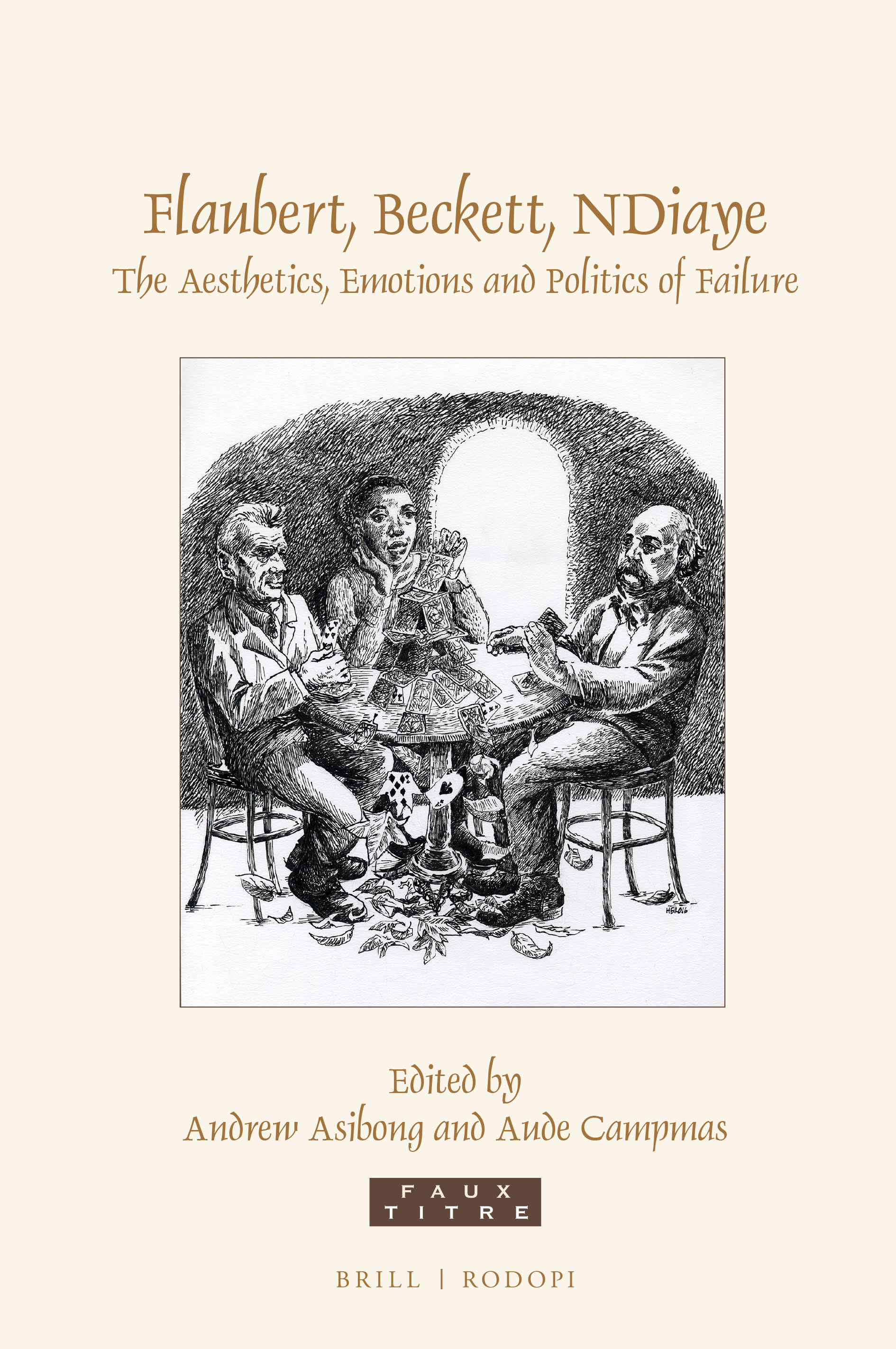 A. Asibong, A. Campmas (eds), Flaubert, Beckett, NDiaye. The Aesthetics, Emotions and Politics of Failure
Brill | Rodopi, coll. "Faux Titre"
EAN: 9789004337152
Référence bibliographique : Andrew Asibong et Aude Campmas (eds), Flaubert, Beckett, NDiaye. The Aesthetics, Emotions and Politics of Failure, Brill | Rodopi, collection "Faux Titre", 2017. EAN13 : 9789004337152.
Gustave Flaubert, Samuel Beckett and Marie NDiaye can be considered as visionaries of a peculiarly radical form of failure, their protagonists and texts alike sliding inexorably into unmanageable states of paradox, incompletion and disintegration. What are the implications of these authors' experiments in splitting and negativity, experiments which seem to indulge the most cynical aspects of nihilism, whilst at the same time grappling with the very foundations of politicized and psychic truth? In this unusual edited volume of comparative analyses, Andrew Asibong and Aude Campmas bring together ten provocative and illuminating essays, each of which approaches the various 'failures' of the bizarre trio of canonical francophone writers along three principal axes of investigation: the aesthetic, the emotional and the political.
Textes en anglais et en français
Table:
Introduction, Andrew Asibong and Aude Campmas
Echoes of Terence: 'Rien d'humain' in the friends and neighbours of Flaubert, Beckett and NDiaye, Arthur Rose 
Que prouve un insuccès?' Re-cycling failure in Flaubert and Beckett, Kate Rees 
Lieux communs en héritage: de Flaubert à Marie NDiaye, de quoi sont-ils le nom?, Chloé Brendlé 
L'idiotie en famille: Rhétorique et politique de l'idiot chez Flaubert et Beckett, Marie Berne 
'May I be alive when I die!' Dreaming of (re)animation in Flaubert, Beckett and NDiaye, Andrew Asibong 
Objet petit 'Ah!': backstory dramas and sentimental histories in Flaubert's L'Education sentimentale and Beckett's La Dernière Bande, Mary Orr 
Failure and impure narcissism in Oh les beaux jours and 'Une journée de Brulard', William McKenzie 
From paradox to excess: Flaubert's Bouvard et Pécuchet and Beckett's L'Innommable, Tobias Haberkorn 
L'échec comme attaque: les romans clastiques de Gustave Flaubert et Marie Ndiaye, Aude Campmas
Notice bio-bibliographique:
Andrew Asibong, Ph.D (King's College London, 2004) is Reader in Film and Cultural Studies at Birkbeck, University of London, Co-Director of Birkbeck Research in Aesthetics of Kinship and Community, and author of Marie NDiaye: Blankness and Recognition (LUP, 2013) and François Ozon (MUP, 2008). 

Aude Campmas, Ph.D (Université Paris 7, 2008) is Lecturer in French Studies at the University of Southampton. Her current research interests include the relation between science and literature and the representation of the 'monstrous family' in francophone literature.
Responsable : Andrew Asibong et Aude Campmas