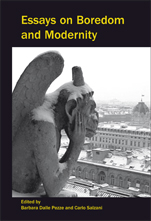 B. Dalle Pezze, C. Salzani (dir.), Essays on Boredom and Modernity
Rodopi
EAN: 9789042025660
Date de publication : 0 mai 2009
Essays on Boredom and Modernity
Sous la direction de Barbara DALLE PEZZE and Carlo SALZANI


Amsterdam/New York, NY: Rodopi, 2009, IV-227 p.

The past thirty years saw a growing academic interest in the phenomenon of boredom. If initially the analyses were mostly a-historical, now the historicity of boredom is widely recognised, though often it is taken as evidence of its permanence as a constant "quality" of the human condition, expression of a metaphysical malady inherent to the fact of being human. New trends in the literature focus on the peculiar relationship between boredom and modernity and attempt to embrace the new social, cultural and political factors which provoked the epochal change of modernity and relate them to a change in the parameters of human experience and the crisis of subjectivity. The very changes that characterise modernity are the same that led to the "democratisation" of boredom: modernity and boredom are shown to be inextricably connected and inseparable.

This volume aims at contributing to the growing body of literature on boredom with a number of essays which reflect on the connection of boredom and modernity and focus on particular texts, authors, or aspects of the phenomenon. The approach is multidisciplinary, in keeping with the pervasiveness of the phenomenon in our culture and societies, with essays reflecting on philosophy, literature, film, media and psychology.

Contents

Acknowledgements

Barbara DALLE PEZZE and Carlo SALZANI: Introduction: The Delicate Monster: Modernity and Boredom

Isis I. LESLIE: From Idleness to Boredom: On the Historical Development of Modern Boredom

William MCDONALD: Kierkegaard's Demonic Boredom

Matthew BOSS: Metaphysics and the Mood of Deep Boredom: Heidegger's Phenomenology of Mood

James PHILLIPS: Beckett's Boredom

Carlo SALZANI: The Atrophy of Experience: Walter Benjamin and Boredom

Rachel June TORBETT: The Quick and the Flat: Walter Benjamin, Werner Herzog

Marco VAN LEEUWEN: The Digital Void: e-NNUI and experience

Joseph BODEN: The Devil Inside: Boredom Proneness and Impulsive Behaviour