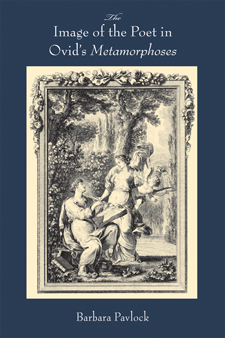 B. Pavlock, The image of the poet in Ovid's Metamorphoses
University of Wisconsin Press, coll. "Wisconsin studies in classics"
EAN: 9780299231408
Pavlock, Barbara. The image of the poet in Ovid's Metamorphoses, Madison, Wis.: University of Wisconsin Press, coll. Wisconsin studies in classics, 2009. 208 pages.
ISBN 9780299231408

$55.00

Présentation de l'éditeur:

Barbara Pavlock unmasks major figures in Ovid's Metamorphoses as surrogates for his narrative persona, highlighting the conflicted revisionist nature of the Metamorphoses.Although Ovid ostensibly validates traditional customs andinstitutions, instability is in fact a defining feature of both thecore epic values and his own poetics.
The Image of the Poetexplores issues central to Ovid's poetics—the status of the image, thegeneration of plots, repetition, opposition between refined andinflated epic style, the reliability of the narrative voice, and theinterrelation of rhetoric and poetry. The work explores the constructedauthor and complements recent criticism focusing on the reader in thetext.
Ovid'ssimultaneous play to and rebellion against epic tradition makesNarcissus both an idealized elegiac image through allusions to thepoet's own mistress in the Amores and an elegiac poet fixated on his own image. Through Narcissus's demise, Ovid reflects the instability of visual images.
InOrpheus's story of Venus and Adonis, an undercurrent of desire inVenus's inset tale reveals a problematic self-involvement. Theself-referential nature of Orpheus's song then raises questions abouthis reliability as narrator, a theme that culminates in Ulysses'contest with Ajax.
HereOvid undercuts heroic views about lineage and valor, but alsohighlights the many clever strategies by which Ulysses elevates himselfover his rival, undermining Homer's Illiad and Odyssey.Ovid questions the authority of the narrator but also provides themeans for understanding the problems at the core of his epic. Thus, inhis time and ours, the reader ultimately emerges better equipped toassess inherited traditions in literary, social, and political spheres.
Barbara Pavlock is associate professor of classics at Lehigh University and author of Eros, Imitation, and the Epic Tradition.