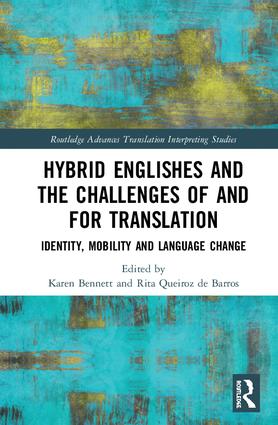 K. Bennett & R. Queiroz de Barros (dir.). Hybrid Englishes and the Challenges of and for Translation: Identity, Mobility and Language Change
Routledge, coll. "Advances in Translation and Interpreting Studies"
EAN: 9781138307407
Bennett, Karen & Rita Queiroz de Barros (éds.).
Hybrid Englishes and the Challenges of and for Translation:
Identity, Mobility and Language Change. 
Routledge, collection "Advances in Translation and Interpreting Studies", 2019.
EAN13 : 9781138307407 — 230p.
Sommaire
Introduction: Translation in a multilingual world: Reflecting Hybridity.
Karen Bennett (Universidade Nova de Lisboa, Portugal)
1. The Problematics and Performance of Self-Translation. The Case of Xiaolu Guo.
Fiona Doloughan (University of Milton Keynes, UK)
2. Translating las mestizas: from Anzaldúa's nos/otras to Moraga's labios.
Cármen Africa Vidal (Universidad de Salamanca, Spain)
3. Translating identities and politics in Arab Hip Hop.
Stefania Taviano (Universita' degli Studi di Messina, Italy)
4. Multilingual Reader, Translingual Reading. Unmaking the Anglonormativity of World Literature in Amitav Ghosh's Sea of Poppies.
Sohomjit Ray (City University of New York, College of Staten Island, USA)
5. Heterolingualism, Translation and the (In)articulation of Grief in Portuguese-American Literature.
Isabel Oliveira Martins (Universidade Nova de Lisboa, Portugal)
6. "I Have Taken Ownership of English": Translating hybridity in Chimamanda Ngozi Adichie's Transcultural Writing.
Elena Rodríguez Murphy (Universidad de Salamanca, Spain)
7. Hybridising English, Hybridising French: Robert Dickson's Translation of Tomson Highway's Kiss of the Fur Queen.
Franck Miroux (Université Toulouse Jean Jaurès, France)
8. Coco and the Case of the Disappearing Spanglish. Negotiating Code-Switching in the English and Spanish Versions of Disney and Pixar's Animated Film.
Remy Attig (University of Ottawa, Canada)
9. Translating Hybrid Languages Ethically. Power Language Ambivalence in l'Últim Patriarca, by Najat El Hachmi.
Cristina Carrasco (University of Salamanca, Spain).
10. Legacies of Translation: A Case Study of the English Lexis, Spanish Loanwords and Don Quixote Translations as Evidenced by the Oxford English Dictionary.
Rita Queiroz de Barros (Universidade Nova de Lisboa, Portugal)
Conclusion: The Veiled Guest: Translation, Hospitality and the Limits of Hybridisation.
Karen Bennett (Universidade Nova de Lisboa, Portugal)
Adresse : Universidade Nova de LisboaAvenida de Berna26-C / 1069-061 LisboaPortugal