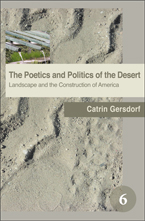 C. Gersdorf, The Poetics and Politics of the Desert. Landscape and the Construction of America
Rodopi, coll. "Spatial Practices"
EAN: 9789042024960
Catrin GERSDORF, The Poetics and Politics of the Desert. Landscape and the Construction of America
Amsterdam/New York, NY: Rodopi, collection "SpatialPractices: An Interdisciplinary Series in Cultural History, Geography andLiterature" n° 6, 2009, 355 p.

Isbn 13 (ean) :978-90-420-2496-0
Présentation de l'éditeur
This studyexplores the ways in which the desert, as topographical space and culturalpresence, shaped and reshaped concepts and images of America. Once a territory outside thegeopolitical and cultural borders of the United States, the deserts of the West andSouthwest have since emerged as canonical American landscapes. Drawing on thecritical concepts of American studies and on questions and problems raised inrecent debates on ecocriticism, The Poetics and Politics of the Desertinvestigates the spatial rhetoric of America as it developed in view of aridlandscapes since the mid-nineteenth century. Gersdorf argues that theintegration of the desert into America catered to the entire spectrum ofideological and political responses to the history and culture of the US,maintaining that the Americanization of this landscape was and continues to bestaged within the idiomatic parameters and in reaction to the discursiveauthority of four spatial metaphors: garden, wilderness, Orient, andheterotopia.
Table
Introduction:Mapping the (Critical) Territory
I. Garden
II. Orient
III.Wilderness
IV.Heterotopia
Epilogue
Bibliography
Index
L'auteur
CatrinGersdorf currently teaches American Literature and Culture at the John F. KennedyInstitute for North American Studies, FU Berlin, and at the English Departmentof the Warsaw School for Social Psychology (SWPS).