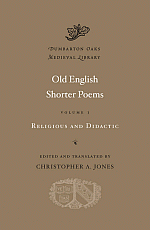 Ch. A. Jones (éd.), Old English Shorter Poems. Volume 1 - Religious and didactic
Harvard University Press
EAN: 9780674057890
Date de publication : 0 juillet 2012
Christopher A. Jones (éd.), Old English Shorter Poems. Volume 1 - Religious and didactic
Harvard University Press, Dumbarton Oaks Medieval Library, 2012.
496 p.
EAN 9780674057890
$29.95 ; £19.95 ; 27.00 EUR.
Présentation de l'éditeur :
Alongside famous long works such as Beowulf, Old English poetry offers a large number of shorter compositions, many of them on explicitly Christian themes. This volume of the Dumbarton Oaks Medieval Library presents twenty-nine of these shorter religious poems composed in Old and early Middle English between the seventh and twelfth centuries. Among the texts, which demonstrate the remarkable versatility of early English verse, are colorful allegories of the natural world, poems dedicated to Christian prayer and morality, and powerful meditations on death, judgment, heaven, and hell.
Previously edited in many different places and in some instances lacking accessible translations, many of these poems have remained little known outside scholarly circles. The present volume aims to offer this important body of texts to a wider audience by bringing them together in one collection and providing all of them with up-to-date translations and explanatory notes. An introduction sets the poems in their literary-historical contexts, which are further illustrated by two appendices, including the first complete modern English translation of the so-called Old English Benedictine Office.
Christopher A. Jones is Professor of English at The Ohio State University.