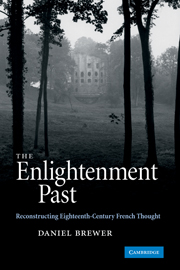 D. Brewer, The Enlightenment Past. Reconstructing Eighteenth-Century French Thought
Cambridge University Press
EAN: 9780521879446
Daniel BREWER, The Enlightenment Past. Reconstructing Eighteenth-Century French Thought
Cambridge, Cambridge University Press, 2008, 268 p.
EAN : 9780521879446


RÉSUMÉ

Over the last two hundred years the theories and ideals of the Enlightenment have come to be viewed as the foundation of modern Western political and intellectual culture. Particularly in France they have played a fundamental role in the development of national identity. In a series of richly contextualised readings Daniel Brewer examines the cultural construction of the Enlightenment in France from the eighteenth century to the present day. He examines a range of important Enlightenment texts, explores the ways in which they defined their modernising project, and analyses the cultural and political uses to which they have been put by scholars, writers and intellectuals. This book presents a significant advance in the field of Enlightenment studies, in an important and timely reassessment of the heritage and continued relevance of Enlightenment ideals.


TABLE DES MATIÈRES

1. Producing Enlightenment history; 2. The event of Enlightenment: beginnings; 3. The subject of Enlightenment: constructing philosophers, writing intellectuals; 4. Designing the past: thinking history through Montesquieu; 5. Literature and the making of Revolutionary history; 6. Inventing a literary past; 7. Commemorating Enlightenment: bringing out the dead, belatedly; 8. The Voltaire effect; 9. Reading among the ruins; 10. Epilogue; Bibliography.