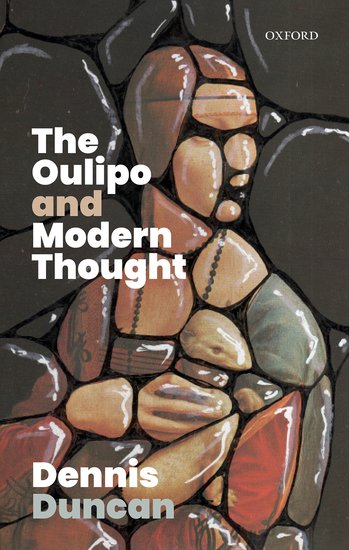 D. Duncan, The Oulipo and Modern Thought
Dennis Duncan
The Oulipo and Modern Thought​
Oxford University Press
ISBN: 9780198831631
192 p.
50,00 $
PRÉSENTATION
The impact of the Oulipo (Ouvroir de Littérature Potentielle), one of the most important groups of experimental writers of the late twentieth century, is still being felt in contemporary literature, criticism, and theory, both in Europe and the US. Founded in 1960 and still active today, this Parisian literary workshop has featured among its members such notable writers as Italo Calvino, Georges Perec, and Raymond Queneau, all sharing in its light-hearted, slightly boozy bonhomie, the convivial antithesis of the fractious, volatile coteries of the early twentieth-century avant-garde. For the last fifty years the Oulipo has undertaken the same simple goal: to investigate the potential of 'constraints' in the production of literature—that is, formal procedures such as anagrams, acrostics, lipograms (texts which exclude a certain letter), and other strange and complex devices. 

Yet, far from being mere parlour games, these methods have been frequently used as part of a passionate—though sometimes satirical—involvement with the major intellectual currents of the mid-twentieth century. Structuralism, psychoanalysis, Surrealism, analytic philosophy: all come under discussion in the group's meetings, and all find their way in the group's exercises in ways that, while often ironic, are also highly informed.

Using meeting minutes, correspondence, and other material from the Oulipo archive at the Bibliothèque nationale de France, The Oulipo and Modern Thought shows how the group have used constrained writing as means of puckish engagement with the debates of their peers, and how, as the broader intellectual landscape altered, so too would the group's conception of what constrained writing can achieve.
DENNIS DUNCAN
Dennis Duncan is a writer and translator based in London. He is currently writing a history of the book index, from the medieval period to the age of the Kindle, to be published by Penguin in 2020 and is co-editor of Book Parts (with Adam Smyth, Oxford University Press, 2019). His recent articles have considered Mallarmé and jugs, James Joyce and pornography, and the history of the Times New Roman typeface. Dr Duncan writes on bibliography and French literature for the Times Literary Supplement, and has published translations of Michel Foucault, Boris Vian, and Alfred Jarry.
TABLE DES MATIÈRES
Introduction: The Secret of Lightness
1: Literature Machines: StructurElism versus StructurAlism
2: The Punning Muse: Psychoanalysis and Homophonic Translation
3: Surrealism's Subject: Two Cohorts of the Oulipo
4: Calvino at a Crossroads: Combinatorics and Anticombinatorics
5: Perec and Mathews: Translation and Analytic Philosophy in the South Seas
Conclusion