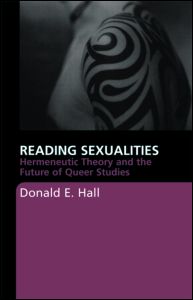 D. E. Hall, Reading Sexualities. Hermeneutic Theory and the Future of Queer Studies
Routledge
EAN: 9780415367868
HALL, Donald E., Reading Sexualities. Hermeneutic Theory and the Future of Queer Studies, New York / Abingdon, Routledge, 2009, 152 p.
ISBN 978-0-415-36786-8
RÉSUMÉ
Reading Sexualities confronts the reigning practices,priorities, and preoccupations of queer theory and sexuality studies.Looking at a range of texts, from novels to travel narratives tointernet porn, Donald E. Hall deftly weaves the theoretical with theliterary in order to:
- examine the vexed ethical, critical, and political questions arising from sexual consumerism and cross-cultural encounters
- read the changing landscape of sexual identity, finding great cause for optimism and enthusiastic engagement
- urge readers to embrace a far-reaching dialogic practice as a mechanism for furthering radical social change.
Reading Sexualities shows how our sexual desires and basesfor identification are being widely challenged and changed. Drawing onhermeneutic theory and the work of Hans-Georg Gadamer, Hall argues thatby approaching sexual diversity with openness and humility, we becomeactive participants in the politically urgent process of reading theself through the perspective of the other.
BIOGRAPHIE
Donald E. Hall is Jackson Distinguished Professor ofEnglish and Chair of the Department of English at West VirginiaUniversity. He is a long-time political activist, and the author oreditor of nine previous books in the fields of gender studies, highereducation studies, and Victorian studies. These include Fixing Patriarchy, RePresenting Bisexualities, Queer Theories, and Subjectivity.

Responsable : Donald E. Hall