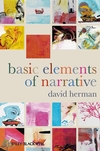 D. Herman, Basic Elements of Narrative
Wiley Blackwell
EAN: 9781405141536
Information publiée le 11 janvier 2009 par Bérenger Boulay
David Herman, Basic Elements of Narrative
Wiley-Blackwell, 2009, 272 p.
ISBN: 978-1-4051-4153-6
£50.00 / €62.50

Présentation de l'éditeur :

Basic Elements of Narrative outlines a way of thinking about what narrative is and how to identify its basic elements across various media, introducing key concepts developed by previous theorists and contributing original ideas to the growing body of scholarship on stories.

Includes an overview of recent developments in narrative scholarship
Provides an accessible introduction to key concepts in the field
Contributes new ideas and theories
Views narrative as a cognitive structure, type of text, and resource for interpersonal communication
Uses examples from literature, face to face interaction, graphic novels, and film to explore the core features of narrative
Includes a glossary of key terms, full bibliography, and comprehensive index
Appropriate for multiple audiences, including students, non-specialists, and experts in the field
David Herman teaches inthe Department of English at Ohio State University, where he co-foundedProject Narrative, a new interdisciplinary initiative designed topromote state-of-the-art research and teaching in the area of narrativestudies. He is editor of the Frontiers of Narrative book series andalso the new journal Storyworlds, both published by the University ofNebraska Press. Having published many research articles on aspects ofnarrative, he is the author, editor, or coeditor of eight books in thefield, including Universal Grammar and Narrative Form (1995),Narratologies: New Perspectives on Narrative Theory (1999), StoryLogic: Problems and Possibilities of Narrative (2002), Narrative Theoryand the Cognitive Sciences (2003), The Routledge Encyclopedia ofNarrative Theory (coedited with Manfred Jahn and Marie-Laure Ryan, 2005), and The Cambridge Companion to Narrative (2007).
Sommaire:
List of Illustrations.
The Elements.
Preface.
The Scope and Aims of This Book.
Storytelling Media and Modes of Narration.
Acknowledgments.
1. Getting Started: A Thumbnail Sketch of the Approach Developed in This Book.
Toward a Working Definition of Narrative.
Profiles of Narrative.
Narrative: Basic Elements.
2. Background and Context: Framing the Approach.
Interdisciplinary Perspectives on Narrative and Narrative Theory.
Major Trends in Recent Scholarship on Narrative.
3. Back to the Elements: Narrative Occasions.
Situating Stories.
Sociolinguistic Approaches.
Positioning Theory.
The Narrative Communication Model.
Conclusion.
4. Temporality, Particularity, and Narrative: An Excursion into the Theory of Text Types.
From Contexts of Narration to Narrative as a Type of Text.
Text Types and Categorization Processes.
Narrative as a Text-Type Category: Descriptions vs. Stories vs. Explanations.
Summing up: Text Types, Communicative Competence, and the Role of Stories in Science.
5. The Third Element: Or, How to Build a Storyworld.
Narratives as Blueprints for Worldmaking.
Narrative Ways of Worldmaking.
Narrative Worlds: A Survey of Approaches.
Configuring Narrative Worlds: The WHAT, WHERE, and WHEN Dimensions of Storyworlds.
Worlds Disrupted: Narrativity and Noncanonical Events.
6. The Nexus of Narrative and Mind.
The Consciousness Factor.
Consciousness Across Narrative Genres.
Experiencing Minds: What It's Like, Qualia, Raw Feels.
Storied Minds: Narrative Foundations of Consciousness?.
Appendix.
Reproduction of Ernest Hemingway's "Hills Like White Elephants" (1927).
Transcript of a Story Told during Face-to-Face Interaction: UFO or the Devil.
Pages from Daniel's Clowes's Graphic Novel Ghost World (1997).
Screenshots from Terry Zwigoff's Film Version of Ghost World (2001).
Glossary.
References.
Index