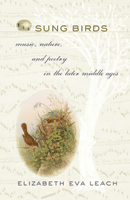 E. E. Leach, Sung Birds: Music, Nature, and Poetry in the Later Middle Ages
Cornell University Press
EAN: 9780801444913
Information publiée le 28 janvier 2009 par Bérenger Boulay
Elizabeth Eva Leach, Sung Birds:  Music, Nature, and Poetry in the Later Middle Ages
Ithaca and London, Cornell University Press, 2007, xiii-345p. 
ISBN: 0801444918,
ISBN-13: 9780801444913
$55.00. 

Recension par Alice V. Clark  (Loyola University New Orleans) dans The Medieval Review: TMR 09.01.07

Extraits en ligne (Amazon)
Présentation de l'éditeur :

Is birdsong music? The most frequent answer to this question in theMiddle Ages was resoundingly "no." In Sung Birds, Elizabeth Eva Leachtraces postmedieval uses of birdsong within Western musical culture.She first explains why such melodious sound was not music for medievalthinkers and then goes on to consider the ontology of music, thesignificance of comparisons between singers and birds, and therelationship between art and nature as enacted by the musicalperformance of late-medieval poetry. If birdsong was not music, howshould we interpret the musical depiction of birdsong in humanmusic-making? What does it tell us about the singers, their listeners,and the moral status of secular polyphony? Why was it the fourteenthcentury that saw the beginnings of this practice, continued to this dayin the music of Messiaen and others?
Leach explores medievalarguments about song, language, and rationality whose basic termssurvive undiminished into the present. She considers not only lyricsthat have their singers voice the songs or speech of birds but alsothose that represent other natural, nonmusical, sounds such as humancries or the barks of dogs. The dangerous sweetness of birdsong wasinvoked in discussions of musical ethics, which, because of thepotential slippage between irrational beast and less rational woman incomparisons with rational human masculinity, depict women's singing asless than fully human. Leach's argument comes full circle with theadvent of sound recording. This technological revolution-like itsmedieval equivalent, the invention of the music book-once again madethe relationship between music and nature an acute preoccupation ofWestern culture.
 Elizabeth Eva Leach is University Lecturer in Music at the Faculty ofMusic, University of Oxford and a Fellow of St Hugh's College.