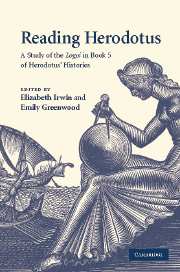 E. Irwin, E. Greenwood (dir.), Reading Herodotus: A Study of the Logoi in Book 5 of Herodotus' Histories
Cambridge University Press
EAN: 9780521876308

Elizabeth Irwin, Emily Greenwood (dir.), Reading Herodotus: A Study of the Logoi in Book 5 of Herodotus' Histories, Cambridge/New York: Cambridge University Press, 2007.  xvi, 352 pages.  
ISBN 9780521876308.  
$99.00.  

Recension par David J. DeVore (University of California, Berkeley) dans Bryn Mawr Classical Review 2009.08.05.
Extraits en ligne sur books.google.

Présentation de l'éditeur:
Reading Herodotus represents a new departurein Herodotean scholar- ship: it is the first multi-authored collectionof scholarly essays to focus on a single book of Herodotus' Histories. Each chapter covers a separate logosin Book 5 and proposes an original thesis about the political,historical, and cultural significance of the subjects that Herodotustreats in this section of the narrative. In addition, each chapteranalyses the connections and continuities between its logos andthe overarching structure of Herodotus' narrative. This collection oftwelve essays by internationally renowned scholars represents animportant contribution to existing scholarship on Herodotus and willserve as an essential research tool for all those interested in Book 5of the Histories, the interpretation of Herodotean narrative, and the historiography of the Ionian Revolt.
ELIZABETH IRWIN is Assistant Professor of Classics at Columbia University. She is the author of Solon and Early Greek Poetry. The Politics of Exhortation (2005).
EMILY GREENWOOD is Lecturer in Greek at the University of St Andrews. She is the author of Thucydides and the Shaping of History (2006) and co-editor, with Barbara Graziosi, of Homer in the Twentieth Century. Between World Literature and the Western Canon (2007).
Table des matières:
Introduction: reading Herodotus, reading Book 5 1
Elizabeth Irwin and Emily Greenwood

'What's in a name?' and exploring the comparable: onomastics, ethnography and kratos in Thrace (5.1–2 and 3–10) 41
Elizabeth Irwin

The Paeonians (5.11–17) 88
Robin Osborne

Narrating ambiguity: murder and Macedonian alliance (5.17–22) 98
David Fearn

Bridging the narrative (5.23–7) 128
Emily Greenwood

The trouble with the Ionians: Herodotus and the beginning of the Ionian Revolt (5.28–38.1) 146
Rosaria Munson

The Dorieus episode and the Ionian Revolt (5.42–8) 168
Simon Hornblower

Aristagoras (5.49–55, 97) 179
Christopher Pelling

Structure and significance (5.55–69) 202
Vivienne Gray

Athens and Aegina (5.82–9) 226
Johannes Haubold

'Saving' Greece from the 'ignominy' of tyranny? The 'famous' and 'wonderful' speech of Socles (5.92) 245
John Moles

Cyprus and Onesilus: an interlude of freedom (5.104, 108–16) 269
Anastasia Serghidou

The Fourth Dorian Invasion and the Ionian Revolt (5.76–126) 289
John Henderson