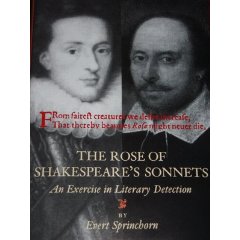 E. Sprinchorn, The Rose of Shakespeare's Sonnets: An Exercise in Literary Detection
The Printer's Press
EAN: 9780615237596
Evert Sprinchorn's The Roseof Shakespeare's Sonnets: An Exercise in Literary Detection brings newmaterial to bear on all the controversial issues, such as the date ofcomposition and the identity of the young man to whom the majority ofthe sonnets are addressed. Although Shakespeare promised to give theyoung man immortality, he has disappeared into the mists of history.However, he is not as elusive as the commentators have made us believe.He also won the attentions of another poet, who almost certainly wasGeorge Chapman, the highly esteemed translator of Homer. The obviousplace to look for the young man is in Chapman's poetry. Oddly, theinvestigators have never followed up this attractive lead. Once theyoung man has been given a name and a face, the sonnet sequence can beread as an exciting narrative, set in the homoerotic court of KingJames I, and as an extraordinary confession, centering on the conflictbetween different kinds of love. Evert Sprinchorn is professor emeritusof drama at Vassar College. Among his publications are Strindberg asDramatist, translations of Strindberg's plays and autobiographicalwritings, editions of Ibsen's letters and Wagner's prose works, essayson Shakespeare, and an interpretation of Joyce's Portrait of the Artistas a Young Man. Most recently he has co-edited with Gabrielle Cody TheColumbia Encyclopedia of Modern Drama.
Hardcover
Publisher: Evert Sprinchorn/Printer's Press; 1st edition edition (2008)
ISBN-10: 0615237592
ISBN-13: 978-0615237596
*  *  *

On peut lire sur le site nonfiction.fr un article en français sur cet ouvrage:
"Le Masque de fer de la littérature anglaise", par V. Giroud.