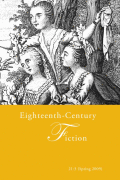 Eighteenth Century Fiction, vol. 21, no 3 (printemps 2009)
University of Toronto Press
Eighteenth Century Fiction publishes articles in both Englishand French on all aspects of imaginative prose in the period 1700–1800,but will also examine papers on late 17th-century or early 19th-centuryfiction, particularly when the works are discussed in connection withthe eighteenth century.
Vol. 21, no 3 (printemps 2009)
Laura E. Thomason
Hester Chapone as a Living Clarissa in Letters on Filial Obedience and A Matrimonial Creed

In Eighteenth-Century England, the upper and middling classes began to see marriage as a matter of emotion as well as duty and socioeconomic necessity. Hester Mulso Chapone (1727-1801) demonstrated the anxious nature of this transition in her personal life and explored it in her writing. In her correspondence with Samuel Richardson, published as Letters on Filial Obedience (1750-51), and her later A Matrimonial Creed (1751), Chapone exploits the rhetoric of feminine sensibility and traditional values to argue for marital choice and thus, indirectly, for gender equality.1 Historians of the period have posited a neat and smooth change in emphasis from arranged to companionate marriages. Lawrence Stone, most famously, argues that "between 1660 and 1800 ... there was inevitably a marked shift of emphasis on motives away from family interest and towards well-tried personal affection."2 Similarly, Randolph...(Extrait)
John C. O'Neal
Sade's Justine: A Response to the Enlightenment's Poetics of Confusion
In Fanaticism, superstition, prejudice, and intolerance French Enlightenment philosophes found various forms of dogmatic thinking that they attempted to counter in a new, paradoxical way. Instead of drawing clear, rigid distinctions between the various realms of nature, the classes of Old Regime society, or classically dualistic concepts such as the body and soul, they intentionally blurred the boundaries between categories. In so doing, they hoped to put an end to the excesses of dogmatic certainty which, as Voltaire suggests in his Traité sur la tolerance, can have very real consequences. In the eighteenth century, an ordinary person such as Jean Calas could be wrongly executed solely on the basis of his religious beliefs, in his case Protestantism. Diderot was imprisoned at Vincennes for the materialist overtones of his Lettres sur les aveugles, and Rousseau had to flee France after the publication of his Émile for its supposedly audacious proposal of natural... (Extrait)
Meghan L. Burke
Making Mother Obsolete: Eliza Fenwick's Secresy and the Masculine Appropriation of Maternity
The titular "secret" of Eliza Fenwick's 1795 novel Secresy, or The Ruin on the Rock is one of hidden maternity.1 On multiple conceptual levels, this secret both creates and destroys. Quite literally, the clandestine pregnancy of the imprisoned heiress Sibella Valmont involves the creation of an illegitimate offspring, the physical and emotional turmoil of which destroys the illfated young mother. Additionally, Sibella's pregnancy is an embodiment of an intangible yet more powerful "creation," that of female agency and community. In a departure from the typical, tragic, illegitimate births of literary convention, Sibella's maternity represents free female will. The bond it cements between the pregnant woman and her female confidante, Caroline Ashburn, also signifies the ways in which maternity serves as a site of communal power and authority for women. This sense of community is evident when... 

William N. Coker
Narratives of Emergence: Jean Paul on the Inner Life
Poetry is the only peace-goddess of the earth and of the angels, who leads us, and if only for a matter of hours, out of prisons and onto stars. --Jean Paul, Pre-School of Aesthetics[Vorschule der Aesthetik] (1804) 1 In his treatise on poetics and aesthetics, Jean Paul personifies poetry as an angel that frees "us" readers -- and writers -- from confinement. As definitive as the theme of interiority is for the Romantic period as a whole, in Jean Paul's fictions the transition between inner and outer spaces is of pervasive significance both thematically and formally. Attention to these transitions offers a clue to a riddle otherwise posed by Jean Paul's texts: the thematic emphasis on the inner life can seem strangely at odds with the externality of their form, a predominantly authorial discourse relying mainly on a nexus of metaphors rather than the modulation of the narrative voice. Doubtless this tension relates to the situation of writing in a period in which the idea of an indispensible inner core to the human... (Extrait)
Nancy E. Johnson
Fashioning the Legal Subject: Narratives from the London Treason Trials of 1794
New Paltz Jeremy Bentham, in his Comment on William Blackstone's Commentaries on the Laws of England, criticizes Blackstone for casting as "laws" mere "imaginary objects" that function metaphorically.1 Bentham describes the process of studying Blackstone's lectures on jurisprudence as an "excursion into the land of fancy," a terrain populated by lawyers who "can no more speak at their ease without a fiction in their mouths, than Demosthenes without pebbles." Aligning Blackstone with other "dealers in fiction," Bentham likens Blackstone's concept of the "law of nature" to the notion of "zeal" in Swift's Tale of a Tub, which is transformed "from a notion into a word, and from thence, in a hot summer, ripened into a tangible substance." Bentham's mission, in response to this invasion of the law by imagination, is to identify "real" laws and distinguish them from "the flock of chiméras with which these [imaginary objects] infest the approaches of the...(Extrait)