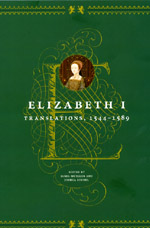 Elizabeth I. Translations, 1544-1589
University of Chicago Press
EAN: 9780226201313
MUELLER, Janel et Joshua SCODEL (dir.), Elizabeth I. Translations, 1544-1589, Chicago, University of Chicago Press, 2009, 504 p.
ISBN 9780226201313
RÉSUMÉ
England's Virgin Queen, Elizabeth Tudor, had a reputation forproficiency in foreign languages, repeatedly demonstrated inmultilingual exchanges with foreign emissaries at court and in theextemporized Latin she spoke on formal visits to Cambridge and Oxford.But the supreme proof of her mastery of other tongues is the sizablebody of translations she made over the course of her lifetime. Thistwo-volume set is the first complete collection of Elizabeth'stranslations from and into Latin, French, and Italian.   

Presenting original and modernized spellings in a facing-page format,these two volumes will answer the call to make all of Elizabeth'swritings available. They include her renderings of epistles of Ciceroand Seneca, religious writings of John Calvin and Marguerite deNavarre, and Horace's Ars poetica, as well as Elizabeth's Latin Sententiaedrawn from diverse sources, on the responsibilities of sovereign ruleand her own perspectives on the monarchy.  Editors Janel Mueller andJoshua Scodel offer introduction to each of the translated selections,describing the source text, its cultural significance, and thehistorical context in which Elizabeth translated it. Their annotationsidentify obscure meanings, biblical and classical references, andElizabeth's actual or apparent deviations from her sources.   

The translations collected here trace Elizabeth's steady progressionfrom youthful evangelical piety to more mature reflections on morality,royal responsibility, public and private forms of grief, and the rightway to rule.  Elizabeth I: Translations is the queen's personallegacy, an example of the very best that a humanist education can bringto the conduct of sovereign rule.
TABLE DES MATIÈRES
List of Illustrations
Acknowledgments
General Introduction

I          1544: Marguerite de Navarre's Le Miroir de l'âme Pécheresse
            Introduction
            Translation

II         1545: Katherine Parr's Prayers or Meditations
            Introduction
            Dedicatory Letter
            Latin Translation
            French Translation
            Italian Translation

III        1545: John Calvin's Institution de la Religion Chrestienne, Chapter One
            Introduction
            Translation

IV        1547: Bernardino Ochino's "Che Cosa è Christo"
            Introduction
            Elizabeth's Latin Translation
            Editors' English Translation

V         1563: Elizabeth's Sententiae
            Introduction
            Sententiae

VI        Pre-1558–1580s: Elizabeth's Book Inscriptions
            Introduction
            Inscriptions 

VII       ca. 1567: Seneca's Epistulae Morales 107
            Introduction
            Translation

VIII      ca. 1579: Cicero's Epistulae ad Familiares 2.6
            Introduction
            Translation

IX        ca. 1589: Choral Ode from Hercules Oetaeus
            Introduction
            Translation

Appendix 1: Translation Ascribed to Elizabeth of Francesco Petrarch's Trionfo dell'Eternità, Lines 1–90
            Introduction
            Translation

Appendix 2: The Reliability of Nugae Antiquae as a Source for Translations Ascribed to Elizabeth

Index of Names
BIOGRAPHIE
Janel Mueller is the William Rainey Harper DistinguishedService Professor Emerita in the Department of English and the Collegeat the University of Chicago. She is a coeditor of Elizabeth I: Collected Works and Elizabeth I: Autograph Compositions and Foreign Language Originals, also published by the University of Chicago Press.
Joshua Scodelis Helen A. Regenstein Professor in English, Comparative Literature,and the College at the University of Chicago. He is the author of Excess and the Mean in Early Modern English Literature.