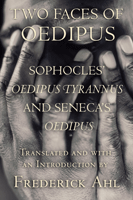 F. Ahl, Two Faces of Oedipus: Sophocles' Oedipus Tyrannus and Seneca's Oedipus
Information publiée le 20 juillet 2008 par Bérenger Boulay (source : Bryn Mawr Classical Review)
Frederick Ahl, Two Faces of Oedipus: Sophocles' Oedipus Tyrannus and Seneca's Oedipus. Ithaca: Cornell University Press, 2008, 266p
ISBN (ean13): 978-0-8014-7397-5.
Un compte rendu de cet ouvrage par Jennifer E. Thomas est proposé dans Bryn Mawr Classical Review: 2008.07.43

Sommaire (.pdf)

Présentation de l'éditeur:
Sophocles' Oedipus Tyrannus is the most famousof ancient tragedies and a literary masterpiece. It is not, however,the only classical dramatization of Oedipus' quest to discover hisidentity. Between four and five hundred years after Sophocles' play wasfirst performed, Seneca composed a fine, but neglected and oftendisparaged Latin tragedy on the same subject, which, in some ways,comes closer to our common understanding of the Oedipus myth. Now,modern readers can compare the two versions, in new translations byFrederick Ahl. Balancing poetry and clarity, yet staying scrupulouslyclose to the original texts, Ahl's English versions are designed to beboth read and performed, and are alert to the literary and historicalcomplexities of each.

Inapproaching Sophocles anew, Ahl is careful to preserve the richlyallusive nature and rhetorical power of the Greek, including theintricate use of language that gives the original its brilliant force.For Ahl, Seneca's tragedy is vastly and intriguingly different fromthat of Sophocles, and a poetic masterpiece in its own right. Senecatakes us inside the mind of Oedipus in ways that Sophocles does not,making his inner conflicts a major part of the drama itself in hissoliloquies and asides.

Two Faces of Oedipus opens witha wide-ranging introduction that examines the conflicting traditions ofOedipus in Greek literature, the different theatrical worlds ofSophocles and Seneca, and how cultural and political differencesbetween Athenian democracy and Roman imperial rule affect the natureand conditions under which the two tragedies were composed. This bookbrings two dramatic traditions into conversation while providingelegant, accurate, and exciting new versions of Sophocles' and Seneca'stragedies.


Reviews

"Elegant,polished, easily readable and—no mean feat—performable, Frederick Ahl'sversions of Sophocles' Oedipus Tyrannus and Seneca's Oedipus are likelyto advance to the forefront of modern translations of these plays andto point the way for future work. Ahl is laudably clear andnontechnical. His book addresses the needs of college and universityinstructors and will appeal to general readers and stage professionalsas well."—Martin M. Winkler, George Mason University

"Our viewof Oedipus Tyrannus, the finest of all Greek tragedies, has beencolored by Renaissance reception of the Senecan Oedipus, much betterknown until a couple of centuries ago. Frederick Ahl has successfullyfreed Sophocles' play from modern 'interference' as well as fromFreudian misapprehension and error. He has also gone a long way towardplacing Oedipus Tyrannus in its original political and religiouscontext, and makes a case for seeing Oedipus as a product of AugustanRome. The translations are superb: close, and not merely literal, butliterate. A landmark in scholarship."—Michael Vickers, University ofOxford

About the Author
Frederick Ahl is Professor of Classics and Comparative Literature atCornell University, and is the translator of Seneca's Medea, Phaedra,and Trojan Women, all from Cornell, and of Virgil's Aeneid. He isactive in the theater, and has directed numerous performances of Greekand Roman tragedies both in the United States and in Greece.