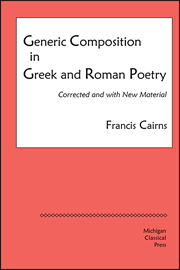 F. Cairns, Generic Composition in Greek and Roman Poetry
Michigan Classical Press
EAN: 9780979971310

Francis Cairns, Generic Composition in Greek and Roman Poetry. Corrected and with new material. First edition published in 1972, Ann Arbor: Michigan Classical Press, 2007. ix, 336 pages.  
ISBN 9780979971310
$65.00

Recension par Anna S. Uhlig (Princeton University) dans Bryn Mawr Classical Review 2009.05.25.
Présentation de l'éditeur:
Original in conception and powerful in scope, Generic Composition in Greek and Roman Poetry remains one of the most important books on early Greek, Hellenistic and Roman poetry in a generation. First published in the philological climate of the early 1970s, Francis Cairns' book was among the first works that sought to further our comprehension of difficult or obscure ancient poems by applying new literary-critical conventions and terminology, notably the concept of genre. Ancient literary studies have grown more sophisticated over the last years, and Generic Composition in Greek and Roman Poetry now finds itself very much in the midst of current debates. The new edition includes a new Postscript by the author, and important corrections to the text, notes, and indices.
The original publisher remarked, "This is the first serious attempt to formulate a system of literary criticism for ancient poetry, derived wholly from ancient evidence. It is based on methods of generic analysis, assignment and interpretation applicable to all Greek and Roman poetry. It outlines what the author deduces are the creative principles informing ancient poets' approach to their subject matter, and establishes criteria that enable an objective discussion of the poems' originality and merit."
Generic Composition in Greek and Roman Poetry examines uses of topoi and categories of genres, and offers detailed and insightful interpretations of many individual poems in both languages. It also highlights five specific generic sophistications, among them inversion and inclusion. The work is accompanied by extensive notes and indices, together with translations of the original texts that make it accessible and valuable to classicists and non-classicists alike.
One of the great contributions of Francis Cairns' work has been firmly to move the study of ancient poetry away from the realm of fictive literary biography, while grounding critical analysis in the techniques that were employed by ancient authors to create meaning.

Francis Cairns is Professor of Classical Languages at The Florida State University. He has written numerous articles and books on Greek and Latin literature, including Propertius: The Augustan Elegist, Virgil's Augustan Epic and Tibullus: A Hellenistic Poet at Rome. He is editor of PLLS.