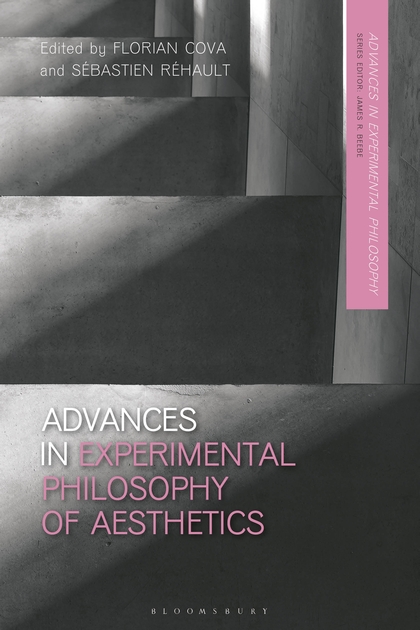 F. Cova, S. Réhault (dir.), Advances in Experimental Philosophy of Aesthetics
Florian Cova, Sébastien Réhault (dir.)
Advances in Experimental Philosophy of Aesthetics
Bloomsbury Academic
ISBN: 9781350038851
344 p.
82 $
PRÉSENTATION
Experimental philosophy has blossomed into a variety of philosophical fields including ethics, epistemology, metaphysics and philosophy of language. But there has been very little experimental philosophical research in the domain of philosophical aesthetics. Advances to Experimental Philosophy of Aesthetics introduces this burgeoning research field, presenting it both in its unity and diversity, and determining the nature and methods of an experimental philosophy of aesthetics.

Addressing a wide variety of empirical claims that are of interest to philosophers and psychologists, a team of authors from different disciplines tackle traditional and new problems in aesthetics, including the nature of aesthetic properties and norms, the possibility of aesthetic testimony, the role of emotions and moral judgment in art appreciation, the link between art and language, and the role of intuitions in philosophical aesthetics.

Interacting with other disciplines such as moral psychology and linguistics, it demonstrates how philosophical aesthetics can integrate empirical methods and discover new ways of approaching core problems. Advances to Experimental Philosophy of Aesthetics is an important contribution to understanding aesthetics in the 21st century.
Lire un compte-rendu de l'ouvrage sur la vie des idées...
SOMMAIRE
Notes on Contributors
Introduction (Florian Cova, University of Geneva, Switzerland, and Sébastien Réhault, University of Lorraine, France)
Acknowledgements

Part I: Investigating the Nature of Aesthetic Judgment
1. Beyond Intersubjective Validity: Recent Empirical Investigations into the Nature of Aesthetic Judgement (Florian Cova, University of Geneva, Switzerland)
2. Aesthetic Testimony and Experimental Philosophy (James Andow, University of Reading, UK)
3. Impure Aesthetics (Jesse Prinz & Angelika Seidel, City University of New York, USA)

Part II: The Ontology of Art
4. Why is that Art? (Richard Kamber & Taylor Enoch, The College of New Jersey, USA)
5. Artworks as Extensions of their Creator (George Newman & Rosanna Smith, Yale University, USA)

Part III: Engaging with Art: Imagination and Emotions
6. Being Quasi-moved: A View from the Lab (Jérôme Pelletier, Université de Brest, France)
7. The Content-dependence of Imaginative Resistance (Hanna Kim, Markus Kneer, Michael T. Stuart)
8. Aphantasia and the Decay of Mental Images (Steve Humbert-Droz, University of Fribourg, Switzerland)
9. The Beautiful, the Sublime, and the Self (Margherita Arcangeli, University of Geneva, Switzerland, and Marco Sperduti, Ecole Normale Supérieure, France, and Jérôme Dokic, EHESS, France)

Part IV: Aesthetics and Philosophy of Language
10. Lost in Musical Translation: A cross-cultural study of musical grammar and its relation to affective expression in two musical idioms between Chennai and Geneva (Constant Bonard, University of Geneva, Switzerland)
11. An Empirical Approach to Aesthetic Predicates (Isidora Stojanovic, Institut Jean Nicod, CNRS, France)
12. The Continuity between Art and Everyday Communication (Alessandro Pignocchi, Ecole Normale Supérieure, France)

Part V: Metaphilosophy
13. Beauty and the Agreeable: A Critique of Experimental Aesthetics (Nick Zangwill, University of Hull, UK)
14. Are Aestheticians' Intuitions Sitting Pretty? (Jonathan Weinberg, University of Arizona, USA)
15. Experimental Philosophy of Aesthetics as Public Philosophy (Shen-Yi Liao, University of Puget Sound, USA and Aaron Meskin, University of Leeds, UK)

Index
REVIEWS
"Experimental aesthetics is the new frontier of experimental philosophy, and Cova and Rehault's fascinating volume is a watershed moment in its growth. For the first time, psychologists, philosophers, and linguists come together to examine aesthetic judgment, the nature of artworks, or the role of emotions in art. Aesthetics will never be the same, and this interdisciplinary volume will be a template for future work about art." –  Edouard Machery, Distinguished Professor of History and Philosophy of Science, Director of the Center for Philosophy of Science, University of Pittsburgh, USA
"Wittgenstein thought that psychology could contribute little to aesthetics. This extraordinary volume makes it clear that Wittgenstein was wrong! The experimental philosophy of aesthetics is barely a decade old. These exciting and provocative papers leave little doubt that it has already come of age." –  Stephen Stich, Board of Governors Distinguished Professor, Rutgers University, USA