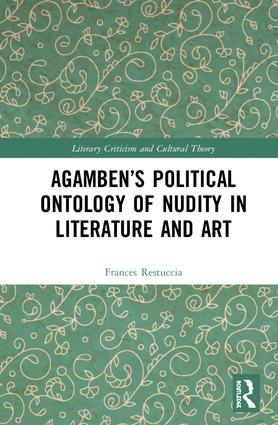 F. Restuccia, Agamben's Political Ontology of Nudity in Literature and Art
Frances Restuccia
Agamben's Political Ontology of Nudity in Literature and Art
Routledge
206 p.
ISBN : 9780367204808
PRESENTATION
This volume develops the central (though neglected) Agambenian concept of nudity along with its crucial political implications. The book discovers within The Use of Bodies a philosophical path to Agamben's "ontology of nudity," as it is subtended by his notion of the messianic—a dual temporality of form in motion reflected in the image of a whirlpool that is autonomous although no drop of water belongs to it separately. Drawn from Paul and Benjamin (rather than Derrida), Agamben's messianic is elaborated in this study through its embodiment in literature—Woolf's To the Lighthouse, James's The Aspern Papers, Brodsky's Watermark, and Mann's Death in Venice—in response to Agamben's insistence on the wedding of poetry and philosophy. In particular, Coetzee's Disgrace gives poetic form to Agamben's focus on the dissolution of the human/animal border, the salvation of the unsavable, and "nudity"—all to illustrate Agamben's Open without a closedness. This text shows how art serves as the house of philosophy also by taking up the nude in visual art, making the case that, in comprising chronos and kairos (the two messianic components of Agamben's ontology of nudity), art demonstrates the constitution of form-of-life for the viewer. Emphasizing Agamben's privileged non-unveilability/nudity, this book finally examines two major missed encounters, with Heidegger and Lacan, philosophers of the veil. Veiling to Agamben correlates with the sovereignty/bare life structure of the exception, which his ontology of nudity is meant to deactivate—as there is no such thing as a bare life.
FRANCES RESTUCCIA
A Boston College English Professor, Frances Restuccia teaches contemporary theory, modernism, and the world novel. Her published books are James Joyce and the Law of the Father (Yale UP 1989); Melancholics in Love (Rowman & Littlefield 2000); Amorous Acts: Lacanian Ethics in Modernism, Film, and Queer Theory (Stanford UP 2006); and The Blue Box: Kristevan/Lacanian Readings of Contemporary Film (Continuum 2012). She co-chairs "Psychoanalytic Practices" at Harvard. Recent essays have appeared in Philosophy Today, Genre, Comparative Literature, and American Imago.