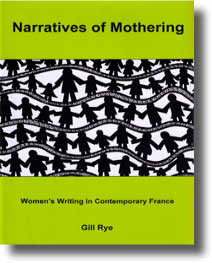 G. Rye, Narratives of Mothering: Women's Writing in Contemporary France
University of Delaware Press
EAN: 9780874130409
Date de publication : 15 juillet 2009
Gill Rye, Narratives of Mothering: Women's Writing in Contemporary France
(Newark: University of Delaware Press, 2009),
ISBN 978-0-87413-040-9;
US $ 52; £44.50
Narratives of Mothering: Women's Writing in Contemporary France engages with an important new trend in contemporary women-authored literature, namely, a turn to narratives of mothering from the perspective of mothers themselves. Although there have been some instances of this in the past, mothers in French literature have, on the whole, tended to be objects of others' discourses rather than narrative subjects in their own right. However, since the beginning of the 1990s, mothers' own voices have come to the fore in a new body of literature, comprising authors such as Christine Angot, Genevieve Brisac, Marie Darrieussecq, Camille Laurens, and Marie Ndiaye, among others.
Gill Rye examines a selection of autobiographical and fictional narratives of mothering published on the cusp of the millennium, from the early 1990s through the first decade of the twenty-first-century, addressing narratives of childbirth and death, separation and guilt, lone and lesbian mothering. Her study explores how contemporary literature is engaging with changing family patterns and practices of mothering in France, yet one of its most striking findings is the recurrence of loss.
This is the first book to engage with these new narratives of mothering, a number of which have won literary prizes and/or have been translated into English and other languages. The study is grounded in the contemporary moment of the French Republic in which motherhood continues to be lived in contradictory ways, yet many of the situations and issues that are raised by the literary examples here have a wider relevance.

Adresse : Institute of Germanic & Romance Studies, University of London, Senate House, Malet Street, London WC1E 7HU, U.K.