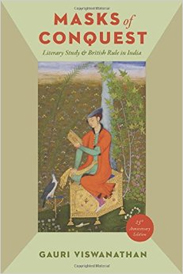 G. Viswanathan, Masks of Conquest
Gauri Viswanathan
Masks of Conquest: Literary Study and British Rule in India
Columbia University Press, 2014
ISBN: 9780231171694
240 pages
Prix: 30 $
Présentation de l'éditeur:
A classic work in postcolonial studies, Masks of Conquest describes the introduction of English studies in India under British rule and its function as an effective form of political control abetting voluntary cultural assimilation. Gauri Viswanathan demonstrates how the literary text functioned as a mirror of the ideal Englishman and became a mask of exploitation that camouflaged the material activities of the colonizing British government. In her new preface, she argues that the curricular study of English can no longer be understood innocently or inattentively to the deeper contexts of imperialism, transnationalism, and globalization in which the discipline first articulated its mission. Masks of Conquest illuminates the transcontinental movements and derivations of English studies, revealing the discipline's origins are as diffuse as its future shape.
Gauri Viswanathan is Class of 1933 Professor in the Humanities at Columbia University. She is also the author of Outside the Fold: Conversion, Modernity, and Belief, which won the Harry Levin Prize awarded by the American Comparative Literature Association, the James Russell Lowell Prize awarded by the Modern Language Association of America, and the Ananda K. Coomaraswamy Prize awarded by the Association for Asian Studies. She is the coeditor of the series South Asia Across the Disciplines, published jointly by the university presses of Columbia, Chicago, and California.