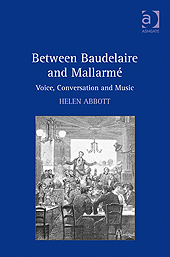 H. Abbott, Between Baudelaire and Mallarmé: Voice, Conversation and Music
Ashgate Publishing
EAN: 9780754667452
Date de publication : 19 octobre 2009
Helen Abbott, Between Baudelaire and Mallarmé: Voice, Conversation and Music
Farnham : Ashgate Publishing, 2009, 258 p.
ISBN : 978-0-7546-6745-2
Prix : 55 £

Présentation de l'éditeur :
As the status of poetry became less and less certain over thecourse of the nineteenth century, poets such as Baudelaire and Mallarmébegan to explore ways to ensure that poetry would not be overtaken bymusic in the hierarchy of the arts. Helen Abbott examines the verse andprose poetry of these two important poets, together with their criticalwritings, to address how their attitudes towards the performancepractice of poetry influenced the future of both poetry and music.Central to her analysis is the issue of 'voice', a term that remainselusive in spite of its broad application. Acknowledging that voice canbe physical, textual and symbolic, Abbott explores the meaning of voicein terms of four categories: (1) rhetoric, specifically the rulesgoverning the deployment of voice in poetry; (2) the human body and itseffect on how voice is used in poetry; (3) exchange, that is, the wayvoices either interact or fail to interact; and (4) music, specificallythe question of whether poetry should be sung. Abbott shows howBaudelaire and Mallarmé exploit the complexity and instability of thenotion of voice to propose a new aesthetic that situates poetry betweenconversation and music. Voice thus becomes an important process ofinteraction and exchange rather than something stable or static; theimplications of this for Baudelaire and Mallarmé are profoundlysignificant, since it maps out the possible future of poetry.
Sommaire :
Prologue; Introduction; Part IRhetoric: Poetic principles: rhetoric, prosody and music. Part II Body:'La voix humaine': the dynamics of voice; Vocal resonance. Part IIIExchange: Exchanging voices; 'Voix étranges'. Part IV Music: Songswithout music; Conclusion; Bibliography; Index.
Téléchargements :