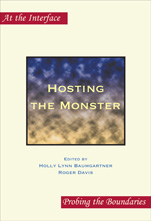 H. Baumgartner, R. Davis (Eds.), Hosting the Monster
Rodopi, coll. "At the Interface Probing the Boundaries"
EAN: 9789042024861
Hosting the Monster
 Sous la direction de Holly Lynn BAUMGARTNER et Roger DAVIS

Amsterdam/New York, NY, Rodopi, coll. "Atthe Interface/Probing the Boundaries" n° 52, 2008.

ISN:978-90-420-2486-1
Présentation de l'éditeur:

Hosting theMonster responds to the call of the monstrous with, not rejection, butinvitation. Positing the monster as that which defies classification, theessays in this collection are an ongoing engagement with that which liesoutside of established boundaries. With chapters ranging from the monstrousmother or the deformed child to subjectivity in transition, this volume is notonly of interest to film and gender scholars and literary and culturaltheorists but also students of popular culture or horror. Its wide appeal stemsfrom its invitation both to entertain the monster and to widen the call to andthe listening for the monsters that have not yet, and perhaps must not yet,come calling back. This sense of hospitality and non-hostility is one guidingprinciple of this collection, suggesting that the ability to survey andresearch the otherwise may reveal more about the subjectivity of the selfthrough the wisdom of the other, however monstrous the manifestation.
Table
Preface
Holly LynnBAUMGARTNER and Roger DAVIS: Hosting the Monster: Introduction
Duane W.KIGHT: "I Live in the Weak and the Wounded": The Monster of Brad Anderson'sSession 9
AmayaMURUZÁBAL MURUZÁBAL: The Monster as a Victim of War: The Returning Veteran inThe Best Years of Our Lives
Lucy FIFE:Human Monstrosity: Rape, Ambiguity and Performance in Rosemary's Baby
InderjitGREWAL: The Monstrous and Maternal in Toni Morrison's Beloved
HannahPRIEST: The Witch and the Werewolf: Rebirth and Subjectivity in Medieval Verse
Holly LynnBAUMGARTNER: It's Never the Bass: Opera's True Transgressors Sing Soprano
KatherineANGELL: Joseph Merrick and the Concept of Monstrosity in Nineteenth CenturyMedical Thought
JessicaWEBB: Herculine Barbin: Human Error, Criminality and the Case of the MonstrousHermaphrodite
Cecilia A.FEILLA: Literary Monsters: Gender, Genius, and Writing in Denis Diderot's 'OnWomen' and Mary Shelley's Frankenstein
Sorcha NÍFHLAINN: Sweet, Bloody Vengeance: Class, Social Stigma and Servitude in theSlasher Genre.
David M.KINGSLEY: It Came from Four-Colour Fiction: The Effect of Cold War Comic Bookson the Fiction of Stephen King
LiesbetDEPAUW: The Monsters that Failed to Scare: The Atypical Reception of the 1930sHorror Films in Belgium
RogerDAVIS: "a white illusion of a man": Snowman, Survival and Speculation inMargaret Atwood's Oryx and Crake
Notes onContributors
Holly LynnBaumgartner is an associate professor of Humanities and English at MercyCollege of Northwest Ohio. Her articles have appeared in Reflections, Rhizomes,American Book Review and other journals.
Roger Davisis an instructor of English at MacEwan College in Edmonton, Canada. He is co-author of Essay Writingfor Canadian Students and his literary interests include poetry, poetics andpopular culture.