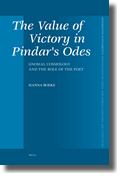 H. Boeke, The Value of Victory in Pindar's Odes. Gnomai, Cosmology and the Role of the Poet
Brill, coll. "Mnemosyne Supplements"
EAN: 9789004158481
Information publiée le 22 novembre 2008 par Bérenger Boulay
Hanna Boeke, The Value of Victory in Pindar's Odes. Gnomai, Cosmology and the Role of the Poet, Leiden/Boston:  Brill, coll. "Mnemosyne Supplements" n° 285, 2007, x-227p. 
ISBN 978-90-04-15848-1
89€

Recension par Maria G. Xanthou (Aristotle University of Thessalonik) dans Bryn Mawr Classical Review 2008.11.23
Présentation de l'éditeur:

This book investigates thecosmological context of Pindar's victory odes, and how it influenceshis presentation of praise. The study first focuses on gnomai as areflection of cosmology, using these sayings to establish the views thepoems reveal on matters such as the divine, the human condition and manin society. This overview is complemented by detailed literary analysesdemonstrating how cosmology functions in individual odes. They showthat Pindar shapes the poet persona to emphasize different aspects ofthe traditional world view or represent varying viewpoints so that hecan praise each victor according to his particular circumstances. Byfocusing on cosmology the book highlights a neglected dimension ofPindar's odes and challenges some traditional views on this poet. 
Hanna Boeke taughtGerman before spending fifteen years in the insurance industry. Sheleft corporate life to study Greek and Roman antiquity. In 2005 shereceived a D. Litt. in Classics from the University of Stellenbosch.

Sommaire:
Gnomai as a source of cosmological reflection -- The nature of gnomai according to modern scholarship -- Ancient thinking on gnomai -- The "true point" of gnomai -- The gnomic expression of cosmology in Pindar -- Definitions and assumptions -- The elemental forces : fate, God, nature and man -- The human condition -- Man in society -- Cosmology in action : an analysis of selected odes -- Olympian 12 : an immigrant and his adopted city -- Isthmian 4 : creating for an ill-favoured victor -- Olympian 13 : praising an ambitious family -- The poet as mediator of cosmology -- Isthmian 4 : the poet modifies a cosmological premise -- Olympian 13 : the poet demonstrates cosmological principles -- Cosmology and the poet in short odes -- Olympian 9 and Nemean 3 : the poet assumes different attitudes to a central cosmological tenet.