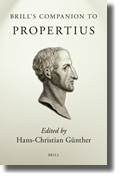 H.-C. Günther (ed.), Brill's Companion to Propertius
Information publiée le 17 août 2008 par Bérenger Boulay
Hans-Christian Günther (ed.), Brill's Companion to Propertius, Leiden, Brill, coll. "Brill's Companions in Classical Studies", 2006, xxii-476p. ISBN: 90-04-13682-7.
217€

Recension par Christina Shuttleworth Kraus (Yale University) dans Bryn Mawr Classical Review: 2008.08.31


Présentation de l'éditeur:
The present volume provides a comprehensive guide to one of the most difficult authors of classical antiquity. All the major aspects of Propertius' work, its themes, the poetical technique, its sources and models, as well as the history of Propertian scholarship and the vexed problems of textual criticism, are dealt with in contributions by Joan Booth, James Butrica, Francis Cairns, Elaine Fantham, Paolo Fedeli, Adrian Hollis, Peter Knox, Robert Maltby, Tobias Reinhardt and Richard Tarrant; due space is also given to the reception of the author from antiquity and the renaissance (Simona Gavinelli) up to the modern age (Bernhard Zimmermann). At the centre stands an interpretation of the four transmitted books by Gesine Manuwaldt, Hans-Peter Syndikus, John Kevin Newman and Hans-Christian Günther.
Dans la même collection (Brill's Companions in Classical Studies):
. Brill's Companion to Apollonius Rhodius
Edited by Theodore D. Papanghelis and Antonios Rengakos

. Brill's Companion to Thucydides
Edited by Antonios Rengakos and Antonis Tsakmakis

. Brill's Companion to Greek and Latin Pastoral
Edited by Marco Fantuzzi and Theodore Papanghelis

. Brill's Companion to Propertius
Edited by Hans-Christian Günther

. Brill's Companion to Hellenistic Epigram
Edited by Peter Bing and Jon Steffen Bruss