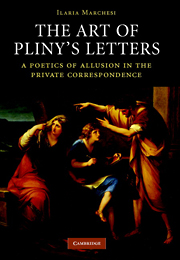 I. Marchesi, The Art of Pliny's Letters: A Poetics of Allusion in the Private Correspondence
Cambridge University Press
EAN: 9780521882279
Information publiée le 30 décembre 2008 par Bérenger Boulay
Ilaria Marchesi, The Art of Pliny's Letters: A Poetics of Allusion in the Private Correspondence.   Cambridge/New York:  Cambridge University Press, 2008, xii-278 p. 
ISBN 13 (ean): 9780521882279  

Extraits en ligne (Préface, sommaire etc.)

Recension par Sandra Citroni Marchetti (Università di Firenze) dans Bryn Mawr Classical Review 2008.12.37
Ilaria Marchesi, Hofstra University, New York
(Mobipocket eBook ISBN-13: 9780511383540)
Présentation de l'éditeur :

Inthe first book on intertextuality in Pliny the Younger, ProfessorMarchesi invites a new reading of Pliny's collection of privateepistles: the letters are examined as the product of an authorialstrategy controlling both the rhetorical fabric of individual units andtheir arrangement in the collection. By inserting recognisablefragments of canonical authors into his epistles, Pliny imports intothe still fluid practice of letter-writing the principles ofcomposition and organisation that for his contemporaries characterisedother writings as literature. Allusions become the occasion for ametapoetic dialogue, especially with the collection's privilegedaddressee, Tacitus. An active participant in the cultural politics ofhis time, Pliny entrusts to the letters his views on poetry, oratoryand historiography. In defining a model of epistolography alternativeto Cicero's and complementing those of Horace, Ovid and Seneca, he alsosuccessfully carves a niche for his work in the Roman literary canon.
•First book to consider Pliny's private epistles as a work of literature• Offers close readings of several newly-translated epistles • Providesan appendix cataloguing all allusions to Cicero's correspondence
Sommaire:

Introduction;1. The semiotics of structure; 2. Sed quid ego tam gloriose? Pliny'schoice of poetics; 3. The importance of being Secundus: Tacitus' voicein Pliny's letters; 4. Storming historiography: Pliny's voice inTacitus' texts; 5. Overcoming Ciceronian anxiety: Pliny's niche/nike inliterary history; From dawn till dusk: four notes in lieu of aconclusion; Appendix to Chapter 5.