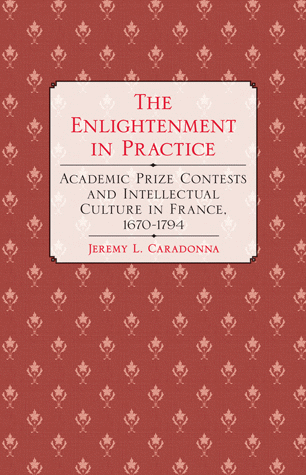 J. Caradonna, The Enlightenment in Practice: Academic Prize Contests and Intellectual Culture in France, 1670–1794
Cornell University Press
EAN: 9780801450600
Date de publication : 0 mars 2012
Jeremy Caradonna, The Enlightenment in Practice: Academic Prize Contests and Intellectual Culture in France, 1670–1794
Ithaca : Cornell University Press, 2012.
EAN 9780801450600.
Prix 59,95USD
352 p.
Présentation de l'éditeur :
"If this impressive book were an entry in an eighteenth-century French academic concours, it would certainly deserve a prize. Jeremy L. Caradonna has taken an aspect of the French Enlightenment of which scholars have been vaguely aware and researched it thoroughly. He demonstrates the importance of academic prize competitions in the culture of the period and makes a persuasive case for his claim that his findings require us to recognize that the Enlightenment was a considerably more open and inclusive movement than has been previously realized."—Jeremy D. Popkin, University of Kentucky
"The Enlightenment in Practice is an excellent work of history, based on exceptionally thorough primary research and organized and written in an appealing fashion. It is an instructive pleasure to read."—Kent Wright, Arizona State University
Public academic prize contests—the concours académique—played a significant role in the intellectual life of Enlightenment France, with aspirants formulating positions on such matters as slavery, poverty, the education of women, tax reform, and urban renewal and submitting the resulting essays for scrutiny by panels of judges. In The Enlightenment in Practice, Jeremy L. Caradonna draws on archives both in Paris and the provinces to show that thousands of individuals—ranging from elite men and women of letters artisans, and peasants—participated in these intellectual competitions, a far broader range of people than has been previously assumed. 
Caradonna contends that the Enlightenment in France can no longer be seen as a cultural movement restricted to a small coterie of philosophers or a limited number of printed texts. Moreover, Caradonna demonstrates that the French monarchy took academic competitions quite seriously, sponsoring numerous contests on such practical matters as deforestation, the quality of drinking water, and the nighttime illumination of cities. In some cases, the contests served as an early mechanism for technology transfer: the state used submissions to identify technical experts to whom it could turn for advice. Finally, the author shows how this unique intellectual exercise declined during the upheavals of the French Revolution, when voicing moderate public criticism became a rather dangerous act.
Jeremy L. Caradonna is Associate Professor of History at the University of Alberta.
Adresse : 512 E. State Street, Ithaca, NY 14850, USA