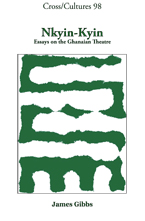 J. Gibbs, Nkyin-Kyin. Essays on the Ghanaian Theatre
Rodopi, coll. "Cross Cultures"
EAN: 9789042025172
James GIBBS, Nkyin-Kyin. Essays on the Ghanaian Theatre
Amsterdam/New York, NY: Rodopi, coll. "Cross/Cultures- Readings in the Post/Colonial Literatures inEnglish" n° 98,  2009, XXV-238p.
Isbn 13 (ean):978-90-420-2517-2
Présentation de l'éditeur
Thiscollection brings together essays written over a thirty-five year period. Theyreflect James Gibbs's position vis-à-vis the Ghanaian theatre as sometimes aremote onlooker, sometimes an enthusiastic participant observer, deeplyinvolved in issues of perception and influence in a society moving throughcolonialism to nationalism, independence and beyond. The main body of the bookis divided into four sections. The first, "Outsiders and Activists," looks attheatre for community development during the late 1940s, some connectionsbetween drama and film, and the astonishing involvement in Ghanaian performanceculture of the Haitian poet and playwright Felix Morisseau–Leroy. The secondsection, "Intercultural Encounters," examines ways in which classic Greek dramahas been used by producers and writers in West Africa, with special referenceto Victor Yankah, Kobina Sekyi (Ghana's first published playwright), and theNigerian Femi Osofisan. Section Three, "Plays and Playwrights," concentrates onEfua Sutherland, Ama Ata Aidoo, and Joe de Graft. This section uncovers issuesof documentation and achievement that draw attention to the need for investmentin organising resources for writing Ghana's theatre history. The volume drawsto a close with personal accounts of touring student productions in the 1960s(with due attention to the influence of Bertolt Brecht) and of involvement in aBritish film production on location. The book closes with an updated completebibliography of Ghana's chief dramatist, Efua Sutherland.
Table des matières :

Preface
Acknowledgements
Introduction:Theatre in Ghana
Outsidersand Activists
1. AlecDickson: Propaganda and Mass Communication
2. KenPickering: Who Is Kofe Basake? 'Village Drama' in Ghana
3. FélixMorisseau–Leroy: "Where people are free they will remember me"
InterculturalEncounters
4. Antigoneand Her African Sisters: West African Versions of a Greek Original
5. TheFifth Landing-Stage: Reading and Re-Reading Across Cultures
Plays andPlaywrights
6. EfuaSutherland: The 'Mother' of the National Theatre Movement
7. What isMarried in The Marriage of Anansewa and Who Performed the Wedding Ceremony?
8. The Callto the Priesthood and Other Stories in Ama Ata Aidoo's Anowa
9. Joe deGraft: A Theatrical Prophet with Strange Honours
Players andPlaymaking
10. TheLegon 7: The Story of a Campus Drama Group (October 1968–June 1970)
11. Victimof the Third World War: Filmmaking in Ghana: The Dying of the Light (1994)
General Bibliography
EfuaTheodora Sutherland: A Bibliography of Primary Materials, with a Checklist ofSecondary Source