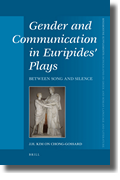 J. H. Kim On Chong-Gossard, Gender and Communication in Euripides' Plays: Between Song and Silence
Brill, coll. "Mnemosyne: Supplements"
EAN: 9789004168800

J. H. Kim On Chong-Gossard, Gender and Communication in Euripides' Plays: Between Song and Silence, Leiden/Boston: Brill, coll. "Mnemosyne: Supplements" 296, 2008.  263 pages.  
ISBN 9789004168800
$142.00  

Recension par Evert van Emde Boas (Corpus Christi College, Oxford) dans Bryn Mawr Classical Review 2009.05.34.
Présentation de l'éditeur:
The prominent role of women inGreek drama has always fascinated readers. This book proposes thatwomen in Euripides' plays communicate in ways constructed by the tragicgenre itself as 'female.' Yet these women's words are surprisingly notuniformly dangerous or excessively emotional, as has traditionally beenthought. Rather, Euripides' women resort to 'female' ways of talking inorder to enable others to understand them and their uniquepoint-of-view. Aspects of women's speech—song, silence andsecret-keeping as female verbal genres, and the challenges of speakingout of place—contribute to Euripides' portrayal of women as differentfrom men. Originating in a culture where putting women under scrutinywas part of daily life, Euripides' tragedies dramatise women's constantstruggle to control language.
J. H. Kim On Chong-Gossard,Ph.D. (1999) in Classical Philology, University of Michigan, is aLecturer in Classics at the University of Melbourne in Australia.Research interests include gender in Greek tragedy, and Roman sexualscandals in Suetonius' biographies.