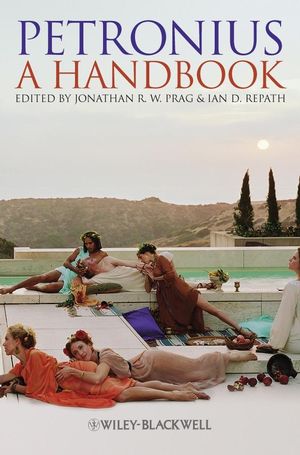 J. Prag, I. Repath (dir.), Petronius: A Handbook
Wiley-Blackwell
EAN: 9781405156875
Information publiée le 8 février 2009 par Bérenger Boulay
Petronius: A Handbook, Wiley-Blackwell, jan. 2009, 272 pages
Sous la direction de Jonathan Prag & Ian Repath
ISBN: 978-1-4051-5687-5
£50.00
62.50 €
Recension par Lee Fratantuono (Ohio Wesleyan University) dans Bryn Mawr Classical Review 2009.07.36.

Présentation de l'éditeur:
Petronius: A Handbook unravels the mysteries of the Satyrica, one of the greatest literary works that antiquity has bequeathed to the modern world.

Includes a dozen original essays by a team of leading Petronius and Roman history scholars
Features the first multi-dimensional approach to Satyricon studies by exploring the novel's literary structure, social and historic contexts, and modern reception
Supplemented by illustrations, plot outline, glossary, map, bibliography, and suggestions for further reading
Jonathan Prag is a University Lecturer in Ancient History at the University of Oxford, and a Tutorial Fellow of Merton College. His main areas of research are Hellenistic and Republican Sicily, and the Roman Republic. He has edited a volume (Sicilia nutrix plebis Romanae) on Cicero's Verrines, and is currently co-editing a volume on The Hellenistic West and writing a book on the non-Italian soldiers of the Roman Republican army.

Ian Repath is Lecturer in Classics at Swansea University. His principal research interests are Greek and Latin prose fiction, and literary aspects of Plato. He is the author of the forthcoming article, Plato in Petronius: Petronius in platanona, and co-editor (with John Morgan) of Where the Truth Lies: Fiction and Metafiction in Ancient Narrative. He is a founding member of KYKNOS, the Swansea, Lampeter, and Exeter Centre for Research in Ancient Narrative Literatures.
Table des matières:

List of Illustrations.
List of Contributors.
Preface and Acknowledgments.
Abbreviations.
Introduction: Jonathan Prag and Ian Repath.
Map.
1. Reading the Satyrica: Niall W. Slater.
2. Petronius and Greek Literature: J. R. Morgan.
3. Petronius and the Roman Literary Tradition: Costas Panayotakis.
4. Letting the Page Run On: Poetics, Rhetoric, and Noise in the Satyrica: Victoria Rimell.
5. Sex in the Satyrica: Outlaws in Literatureland: Amy Richlin.
6. The Satyrica and Neronian Culture: Caroline Vout.
7. Freedmen in the Satyrica: Jean Andreau.
8. A Funny Thing Happened on My Way to the Market: Reading Petronius to Write Economic History: Koenraad Verboven.
9. At Home with the Dead: Roman Funeral Traditions and Trimalchio's Tomb: Valerie M. Hope.
10. Freedmen's Cribs: Domestic Vulgarity on the Bay of Naples: Shelley Hales.
11. Petronius's Satyrica and the Novel in English: Stephen Harrison.
12. Fellini-Satyricon: Petronius and Film: Joanna Paul.
Bibliography.
Index locorum.
General Index