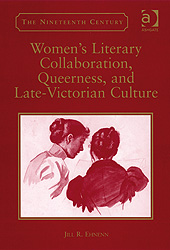 J. R. Ehnenn, Women's Literary Collaboration, Queerness, and Late-Victorian Culture
Date de publication : 0 juin 2008
Women's Literary Collaboration, Queerness, and Late-Victorian Culture
Jill R. Ehnenn,
Ashgate
The Nineteenth Century Series
236 pages
ISBN: 978-0-7546-5294-6
Présentation de l'éditeur
The first full-length study to focus exclusively on nineteenth-century British women while examining queer authorship and culture, Jill R. Ehnenn's book is a timely interrogation into the different histories and functions of women's literary partnerships. For Vernon Lee (Violet Paget) and 'Kit' Anstruther-Thomson; Somerville and Ross (Edith Somerville and Violet Martin); Elizabeth Robins and Florence Bell; and Katharine Bradley and Edith Cooper, the couple who wrote under the pseudonym of 'Michael Field', collaborative life and work functioned strategically, as sites of discursive resistance that critique Victorian culture in ways that would be characterized today as feminist, lesbian, and queer. Ehnenn's project shows that collaborative texts from such diverse genres as poetry, fiction, drama, the essay, and autobiography negotiate many limitations of post-Enlightenment patriarchy: Cartesian subjectivity and solitary creativity, industrial capitalism and alienated labor, and heterosexism. In so doing, these jointly authored texts employ a transgressive aesthetic and invoke the potentials of female spectatorship, refusals of representation, and the rewriting of history. Ehnenn's book will be a valuable resource for scholars and students of Victorian literature and culture, women's and gender studies, and collaborative writing.
*
Table
Coming together: an introduction; The 'art and mystery of collaboration': authorial economies, queer pleasures; Looking strategically: feminist and queer aesthetics in 'beauty and ugliness' and Sight and Song; Refusing to perform: performative silences in A Question of Memory and Alan's Wife; Collaborating with history: The Tragic Mary and The Real Charlotte; Engaging differences; Bibliography; Index.
*
L'auteur
Jill R. Ehnenn is Associate Professor of English at Appalachian State University, USA.
*