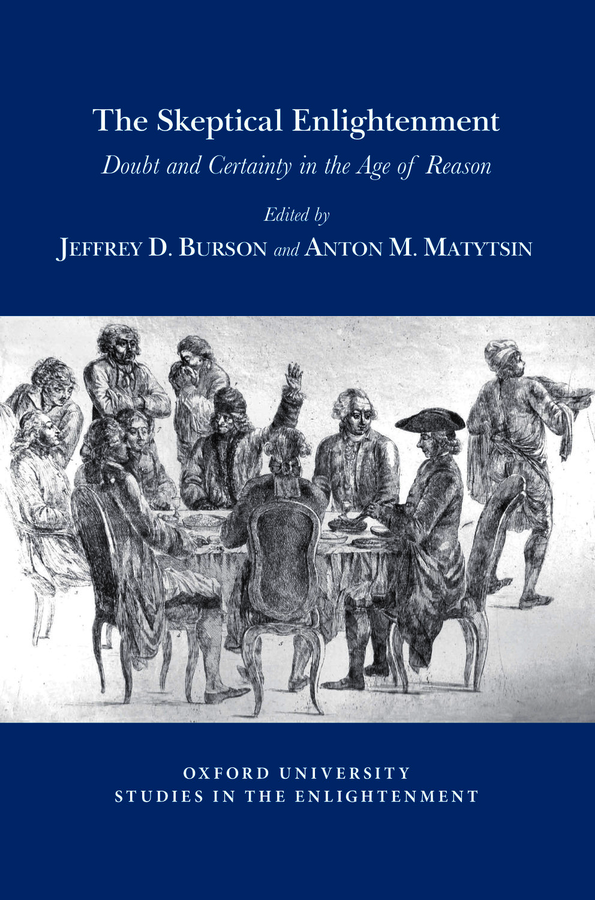 J.D. Burson and A.M. Matytsin (dir.), The Skeptical Enlightenment: Doubt and Certainty in the Age of Reason
The Skeptical Enlightenment: Doubt and Certainty in the Age of Reason
edited by Jeffrey D. Burson and Anton M. Matytsin
Liverpool University Press,
Oxford University Studies in the Enlightenment 2019:03
ISBN: 9781786941947, 248 pages, £65.00
This collection of essays challenges the notion that the eighteenth century was an unalloyed 'Age of Reason', and instead depicts a complicated Enlightenment culture to which philosophical skepticism was far more central than hitherto conceived. This volume examines the process by which skepticism was challenged and gradually tamed to bring about an anxious confidence in the powers of human understanding.
An original captivating work that shows how pervasive doubt and lingering anxiety about the limits of human understanding were at the very heart of the early Enlightenment.
This fascinating series of essays by an international array of historians and philosophers underscores the significance of lesser-known clergy and legal scholars (Claude Buffier, Pierre-Daniel Huet, and Georg Heber), and unseats regnant understandings of more well-known figures (Pierre Bayle, Voltaire, George Berkeley, Baron d'Holbach, and David Hume) by insisting that pervasive and enduring sceptical crisis was a vital and constructive part of the early Enlightenment.
This book tellingly reveals how the seemingly boundless confidence of eighteenth-century figures in the transformative capacity of human understanding actually masked profound anxiety about the circumscribed limits of the mind's powers.
Table of Contents:
Anton M. Matytsin and Jeffrey D. Burson, Introduction: from an "age of skepticism" to an "age of reason"
Jeffrey D. Burson, Healing the skeptical crisis and rectifying Cartesianisms: the notion of the Jesuit synthesis revisited
Elena Rapetti, "A man who sticks only to his own sentiments": Pierre-Daniel Huet's Traité philosophique de la foiblesse de l'esprit humain
Martin Mulsow and John Christian Laursen, Georg Michael Heber on legal and (possibly) religious skepticism in early Enlightenment Germany
Sébastien Charles, George Berkeley, or the skeptic in spite of himself
Rodrigo Brandão, Voltaire and modern skeptical doubt
John P. Wright, Skepticism and incomprehensibility in Bayle and Hume
Anton M. Matytsin, Taming thought with practice: philosophical skepticism in the Encyclopédie
Alan Charles Kors, Political skepticism in Holbach's circle
Summaries
Biographies of contributors
Bibliography
Index
*
Jeffrey D. Burson is Associate Professor of French History and the Enlightenment at Georgia Southern University. He is the author of The Rise and Fall of Theological Enlightenment: Jean-Martin de Prades and Ideological Polarization in Eighteenth-Century France (University of Notre Dame Press, 2010), and The Culture of Enlightening and the Entangled Life of Abbé Claude Yvon (University of Notre Dame Press, 2019), in addition to numerous articles and chapters in edited collections of essays. He is co-editor, with Ulrich L. Lehner, of Enlightenment and Catholicism in Europe: A Transnational History (University of Notre Dame Press, 2014) and, with Jonathan Wright, of The Jesuit Suppression in Global Context: Causes, Events, and Consequences (Cambridge University Press, 2015).
Anton M. Matytsin is Assistant Professor of European History at Kenyon College. He is the author of The Specter of Skepticism in the Age of Enlightenment (Johns Hopkins University Press, 2016) and co-editor, with Dan Edelstein, of Let There Be Enlightenment: The Religious and Mystical Sources of Rationality (Johns Hopkins University Press, 2018).
*
The Oxford University Studies in the Enlightenment series, previously known as SVEC (Studies on Voltaire and the Eighteenth Century), has published over 500 peer-reviewed scholarly volumes since 1955 as part of the Voltaire Foundation at the University of Oxford. International in focus, Oxford University Studies in the Enlightenment volumes cover wide-ranging aspects of the eighteenth century and the Enlightenment, from gender studies to political theory, and from economics to visual arts and music, and are published in English or French.