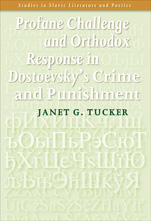 J.Tucker, Profane Challenge and Orthodox Response in Dostoevsky's Crime and Punishment
Rodopi, coll. "Studies in Slavic Literature and Poetics"
EAN: 9789042024946
 Janet G. TUCKER
Profane Challenge and Orthodox Response inDostoevsky's Crime and Punishment.
Amsterdam/New York, NY: Rodopi, coll. "Studiesin Slavic Literature and Poetics" n° 52, 2008, IV-285 p.
Isbn 13 (ean):978-90-420-2494-6
Présentation de l'éditeur
ProfaneChallenge and Orthodox Response in Dostoevsky's Crime and Punishment presentsfor the first time an examination of this great novel as a work aimed atwinning back "target readers", young contemporary radicals, fromUtilitarianism, nihilism, and Utopian Socialism. Dostoevsky framed the battlein the context of the Orthodox Church and oral tradition versus the West. Herelied on knowledge of the Gospels as text received orally, forcing readers toreact emotionally, not rationally, and thus undermining the very basis of hisopponents' arguments. Dostoevsky saves Raskol'nikov, underscoring theinadequacy of rational thought and reminding his readers of a heritagediscarded at their peril. This volume should be of special interest tosecondary and university students, as well as to readers interested inliterature, particularly, in Russian literature, and Dostoevsky.
Table:
Preface
Introduction
ChapterOne: The Significance of Orality and the Oral Tradition: DostoevskyCounter-Attacks
ChapterTwo: The Religious Symbolism of Cloth and Clothing in Crime and Punishment
ChapterThree: Iconic Images in Crime and Punishment: Russia's Western Capital
ChapterFour: "The Parable of the Prodigal Son" in Crime and Punishment
ChapterFive: The Significance of Alterity or "Otherness" in Crime and Punishment:Russian Culture and Western Change
ChapterSix: The Epilogue Reconsidered
Conclusion
Bibliography
Index
L'auteur
JanetTucker is Professor of Russian Language and Literature at the University of Arkansas. She is the author of InnokentijAnnenskij and the Acmeist Doctrine and Revolution Betrayed: Jurij Oleša's Envy.She is also the editor of Against the Grain: Parody, Satire and Intertextualityin Russian Literature. In addition, she has contributed chapters in books, withpieces on Nikolai Gogol, Jurij Oleša and Isaak Babel. Her articles include astudy of Aleksandr Pushkin's Eugene Onegin, an essay on Varlam Shalamov, and arecent article plus a book chapter on Nikolai Gogol.