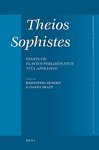 K. Demoen, D. Praet (dir.), Theios Sophistes: Essays on Flavius Philostratus' Vita Apollonii
Brill, coll. "Mnemosyne Supplements"
EAN: 9789004171091

Kristoffel Demoen, Danny Praet (dir.), Theios Sophistes: Essays on Flavius Philostratus' Vita Apollonii,  Leiden/Boston:  Brill, coll. "Mnemosyne Supplements" 305, 2009.  Pp. xvi, 405.  
ISBN 9789004171091.  
$200.00.  

Recension par Adam M. Kemezis (University of Alberta) dans Bryn Mawr Classical Review 2009.10.40.
Présentation de l'éditeur:
Flavius Philostratus' Life of Apollonius of Tyana (Vita Apollonii),written in the first half of the third century CE, is a key text in thecultural, literary and religious history of the Second Sophistic and ofLate Antiquity. Its generic and formal diversity, its shifting culturaland historical background, as well as its protean hero, call for amultifaceted and interdisciplinary reading. "Theios Sophistes" is thefirst collection of interpretative essays on the "Vita Apollonii".Leading scholars in the field and younger critics make for acombination of methodological continuity and innovation. The book isdivided into two sections, one focusing on literary and philologicaldiscussions and relating the Vita to other ancient texts and genres,and one dealing with religious and philosophical aspects. The widerange of approaches and perspectives does justice to the high level ofliterary, historical and philosophical-religious sophistication of thistext.
Table des matières:
Billault, Alain. "Les choix narratifs de Philostrate dans la Vie d'Apollonios de Tyane". 3-20.
Boter, Gerard. "Towards a New Critical Edition of Philostratus' Life of Apollonius: The Affiliation of the Manuscripts". 21-56.
Bowie, Ewen. "Quotation of Earlier Texts in the τὰ ἐς τὸν τυανέα Ἀπολλώνιον". 57-74.
Grossardt, Peter. "How to Become a Poet? Homer and Apollonius Visit the Mound of Achilles". 75-94.
Gyselinck, Wannes & Kristoffel Demoen. "Author and Narrator: Fiction and Metafiction in Philostratus' Vita Apollonii". 95-128.
Miles, Graeme. "Reforming the Eyes: Interpreters and Interpretation in the Vita Apollonii". 129-60.
Schirren, Thomas. "Irony Versus Eulogy. The Vita Apollonii as Metabiographical Fiction". 161-86.
Van der Stockt, Luc. "'Never the Twain Shall Meet'? Plutarch and Philostratus' Life of Apollonius: Some Themes and Techniques". 187-210.
Anderson, Graham. "Folklore Versus Fakelore: Some Problems in the Life of Apollonius". 211-24.
Flinterman, Jaap-Jan. "Apollonius' Ascension". 225-48.
Jones, Christopher. "Some Letters of Apollonius of Tyana". 249-62.
Morgan, John R. "The Emesan Connection: Philostratus and Heliodorus". 263-82.
Praet, Danny. "Pythagoreanism and the Planetary Deities: The Philosophical and Literary Master-structure of the Vita Apollonii". 283-320.
Koskenniemi, Erkki. "The Philostratean Apollonius as a Teacher". 321-34.
Van Uytfanghe, Marc. "La Vie d'Apollonius de Tyane et le discours hagiographique". 335-74.