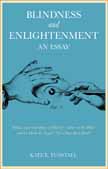 K. E. Tunstall, Blindness and Enlightenment: An Essay
Continuum
EAN: 9781441119322
Date de publication : 0 août 2011
Kate E. TUNSTALL
Blindness and Enlightenment: An Essay
With a new translation of Diderot's ' Letter on the Blind ' and La Mothe Le Vayer's 'Of a Man Born Blind' 
London, New York: Continuum, 2011, 256 p.
EAN13 : 9781441119322.
Présentation de l'éditeur:
Blindness and Enlightenment presents a reading and a new translation of Diderot's Letter on the Blind. Diderot was the editor of the Encyclopédie, that Trojan horse of Enlightenment ideas, as well as a novelist, playwright, art critic and philosopher. His Letter on the Blind of 1749 is essential reading for anyone interested in Enlightenment philosophy or eighteenth-century literature because it contradicts a central assumption of Western literature and philosophy, and of the Enlightenment in particular, namely that moral and philosophical insight is dependent on seeing. Kate Tunstall's essay guides the reader through the Letter, its anecdotes, ideas and its conversational mode of presenting them, and it situates the Letter in relation both to the Encyclopedie and to a rich tradition of writing about and, most importantly, talking and listening to the blind.
Table of Contents
List of Figures appearing in the Essay
Acknowledgements 
Note on the References
    
Prologue, or Operation Enlightenment
Introduction: Optics and Tactics
One: Reading is Believing?
Two: The Blind Leading the Blind Leading the Blind Leading the Blind Leading the Blind ...
Three: Point of View and Point de Vue
Four: Groping Around in the Light
Five: A Supplement to Saunderson's Memoirs
Six: Dis/Solving Molyneux's Problem
Conclusion, or Two Hours Later …

Bibliography
Index

Appendices
I. Denis Diderot, The Letter on the Blind for the Use of Those Who Can See (1749)
Note on the Translation
Translation

II. François de La Mothe Le Vayer, 'Of a Man-Born-Blind' (1653)
Note on the Translation
Translation
Author(s)
Kate E. Tunstall, Kate E. Tunstall is University Lecturer in French at the University of Oxford and Fellow of Worcester College. She is Programme Director of Oxford's Besterman Centre for the Enlightenment, a Director of the Oxford Amnesty Lectures, and she co-authored and co-presented (with Caroline Warman) a series of BBC radio programmes on Diderot.
Adresse : The Continuum International Publishing Group LtdRegistered Number: 3833148 EnglandThe Tower Building, 11 York Road, London SE1 7NX80 Maiden Lane Suite 704 New York, NY 10038