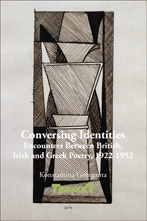 K. Georganta, Conversing Identities. Encounters Between British, Irish and Greek Poetry, 1922-1952
Rodopi, coll. "Textxet - Studies in comparative literature"
EAN: 9789042035638
Date de publication : 0 septembre 2012
Konstantina Georganta, Conversing Identities. Encounters Between British, Irish and Greek Poetry, 1922-1952
Amsterdam/New York, Rodopi, coll. "Textxet - Studies in comparative literature", 2012.
224 p.
EAN 9789042035638
€ 50 / US$ 68
Présentation de l'éditeur :
Conversing Identities: Encounters Between British, Irish and Greek Poetry, 1922-1952 presents a panorama of cultures brought in dialogue through travel, immigration and translation set against the insularity imposed by war and the hegemony of the national centre in the period 1922-1952. Each chapter tells a story within a specific time and space that connected the challenges and fissures experienced in two cultures with the goal to explore how the post-1922 accentuated mobility across frontiers found an appropriate expression in the work of the poets under consideration. Either influenced by their actual travel to Britain or Greece or divided in their various allegiances and reactions to national or imperial sovereignty, the poets examined explored the possibilities of a metaphorical diasporic sense of belonging within the multicultural metropolis and created personae to indicate the tension at the contact of the old and the new, the hypocritical parody of mixed breeds and the need for modern heroes to avoid national or gendered stereotypes. The main coordinates were the national voices of W.B. Yeats and Kostes Palamas, T.S. Eliot's multilingual outlook as an Anglo-American métoikos, C.P. Cavafy's view as a Greek of the diaspora, displaced William Plomer's portrayal of 1930s Athens, Demetrios Capetanakis' journey to the British metropolis, John Lehmann's antithetical journey eastward, as well as Louis MacNeice's complex loyalties to a national identity and sense of belonging as an Irish classicist, translator and traveller.
Sommaire :

Introduction
Mr Eugenides in the City
Waiting for Barbarians
A Philhellene in Athens
Cultural Politics of Old Bards
A Greek Orlando in London
Dreams of Mediterranean Re-birth
An Island Temperament
Conclusion
Bibliography
Index