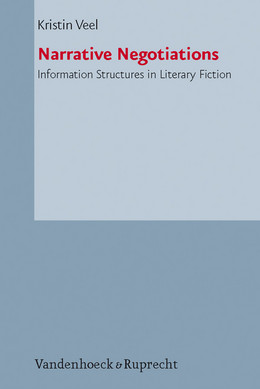 K. Veel, Narrative Negotiations. Information Structures in Literary Fiction
Vandenhoeck & Ruprecht
EAN: 9783525206041
Information publiée le 28 avril 2009 par
Christof Schöch
(source : literaturkritik.de)
Kristin Veel, Narrative Negotiations. Information Structures in Literary Fiction. Göttingen : Vandenhoeck & Ruprecht, 2009.

206 pages
54,90 EUR.
ISBN 9783525206041
Présentation de l'éditeur
This book explores the impact of information and communication technology on the cultural imagination of our time by probing the conditions of literary fiction in an age characterised by information overload. What types of narrative do we find in a world in which vast amounts of information fills our inboxes and our lifeworlds on a daily basis? And how can these narratives be understood in a larger historical framework?
The central argument of the book is that contemporary fiction continues an established pattern in the culture of modernity by simultaneously addressing, resisting and revitalising narrative structures through the incorporation of other modes of organising information. Focussing on the novel genre allows for a rigorous, in-depth study of this issue, enabling the narrative implications of structures such as the database, the hyperlink and the computer game to be placed in a wider historical context. The book thus deals with Goethe's Wilhelm Meisters Wanderjahre (1829), Robert Musil's Der Mann ohne Eigenschaften (1930-42), and Arno Schmidt's Zettels Traum (1970) as well as a number of texts from the last two decades in English, German, Scandinavian, and French by Jan Kjærstad, Thomas Hettche, Botho Strauß, Reinhard Jirgl, Svend Åge Madsen, Günter Grass, David Mitchell, and Guy Tournaye.
One of the book's achievements is, moreover, to bring out the senses in which the influence of information technology on the formation of narrative negotiations can be extended to the analysis of other forms of cultural production, thereby pointing towards a more general concern with the present cultural condition of narrative and the influence of information and communication technology.
Sur l'auteur
Kirstin Veel obtained her PhD from the German Department, University of Cambridge, in 2007. She now works at the Department of Arts and Cultural Studies, University of Copenhagen.

Compte rendu (en allemand)
http://www.literaturkritik.de/public/rezension.php?rez_id=13033