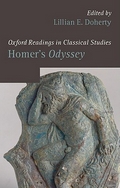 L. E. Doherty (dir.), Homer's Odyssey
Oxford University Press, coll. "Oxford Readings in Classical Studies"
EAN: 9780199233335

Lillian E. Doherty (dir.), Homer's Odyssey, Oxford/New York: Oxford University Press, coll. "Oxford Readings in Classical Studies", 2009.  xii, 360 pages.  
ISBN 9780199233335
$59.95 (pb) 

Recension par Cynthia King (Wright State University) dans Bryn Mawr Classical Review 2009.06.25.
Extraits en ligne sur amazon.co.uk.

Présentation de l'éditeur:
This volume assembles sixteen authoritative articles on Homer's Odysseythat have appeared over the last thirty years. A wide variety ofinterpretative strategies are represented, including, in addition totraditional close readings, the approaches of comparative anthropology,narratology, feminism, and audience-oriented criticism. Papers havebeen selected for their clarity and accessibility, and each is informedby close attention to philological and textual detail. A full glossaryand list of abbreviations have been included, and a specially writtenintroduction puts the selections in a wider context by giving anoverview of major strands in the interpretation of Homer in the secondhalf of the twentieth century.
Lillian E. Doherty is Professor of Classics, University of Maryland, College Park. 
Table des matières:
Introducton
1. In What Sense Can the Iliad and the Odyssey Be Considered Oral Texts?, Minna Skafte Jensen
2. The Song of Ares and Aphrodite: On the Relationship between the Odyssey and the Iliad, Walter Burkert
3. Odysseus' Scar: An Essay on Homeric Epic Narrative Technique, Adolf Kohnken
4. Between Word and Deed: Hidden Thoughts in the Odyssey, Irene J. F. de Jong
5. Name Magic in the Odyssey, Norman Austin
6. 'Active' and 'Passive' Heroics in the Odyssey, Erwin Cook
7. Odysseus and the Art of Lying, Peter Walcot
8. The Philosophy of the Odyssey, R. B. Rutherford
9. 'Reverse Similes' and Sex Roles in the Odyssey, Helene P. Foley
10. The Reunion of Penelope and Odysseus, Chris Emlyn-Jones
11. Penelope's Agnoia: Knowledge, Power, and Gender in the Odyssey, Sheila Murnaghan
12. Gender and Internal Audiences in the Odyssey, Lillian E. Doherty
13. The Economic Man , James M. Redfield
14. Class Ambivalence in the Odyssey, Peter W. Rose
15. Helen's 'Good Drug', Ann L. T. Bergren
16. The Shadow of Ulysses beyond 2001, Piero Boitani