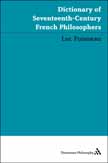 L. Foisneau (éd.), Dictionary of Seventeenth-Century French Philosophers
Thoemmes-Continuum
EAN: 9780826418616
Dictionary of Seventeenth-Century French Philosophers, New York, London, Thoemmes-Continuum, décembre 2008, 1314p.
2 volumes sous le direction de Luc Foisneau 
Isbn13 (ean): 9780826418616
$795/£395
________________________________
This major new publication is the most comprehensive reference source ever on seventeenth-century French authors who have contributed to the invention, spreading or discussion of philosophical ideas and issues. Featuring authors having published at least a book, or written a manuscript, between 1601 and 1700, the period beginning with Pierre Charron and ending with Fontenelle, the Dictionary uses the word 'philosophical' in a wide, seventeenth-century sense. It includes many scholastic figures, having taught metaphysics, logic and theology in Parisian colleges, in the Sorbonne and in the provinces, but also authors who have been involved in the many intellectual debates of the time, for or against Cartesianism, Jansenism, Free-thinking and the new science, many of whom were not philosophers. This wide approach to philosophy explains why the Dictionary includes not only metaphysics and logic, but science, ethics, aesthetics, education, politics, rhetoric, medicine, chemistry, alchemy and theology, and why many of the authors may more usually be called divines, scientists, mathematicians, or even alchemists, cabbalists and playwrights. In addition to short, but well documented, biographies of the writers, there are detailed expositions and analyses of their doctrines and ideas, bibliographies of their writings (including sometimes manuscripts) and suggestions for further reading. All the major seventeenth-century French philosophers are featured, but the most valuable characteristic of the Dictionary is its representation of a huge range of less well-known – and sometimes completely unknown – writers. In many cases the Dictionary offers the first scholarly treatment of the life and work of authors. This book will be an indispensable reference work for scholars working on almost any aspect of seventeenth-century French studies.  
Sommaire:
Volume 1
Introduction
Acknowledgements
How to use the Dictionary
General bibliography
List of contributors
Biographical entries A–J

Volume 2
Biographical entries K–Z
Name
Index
LucFoisneau is a Director of research at the French National Centre forScientific Research (CNRS), presently associated to the Centre RaymondAron (École des Hautes Études en Sciences Sociales), in Paris. He hasbeen Visiting research associate at the Department of Politics andInternational Relations, University of Oxford, between 2003 and 2006.He has been awarded, in 2001, a Prize by the Institut d'ÉtudesPolitiques in Paris for his Hobbes et la toute-puissance de Dieu (Paris, 2000) and has co-edited, among other volumes, Leviathan after 350 years (Oxford University Press, 2003). His research develops in the field of the history of political thought in 17th Century and 20th Century with a particular interest in the theories of sovereignty and their critiques.

__________________
KEY FEATURES OF THE DICTIONARY:
--the first reference work dedicated to 17th-century French philosophers
--around 600 entries, more than 1300 pages, including all the main figures and a huge variety of less well-known writers
--a broad-ranging treatment of 'philosophy' that includes scientists, theologians, politicians and writers
--the first biographical source available on many 17th-century figures
--bibliographies of authors including suggestions for further reading; anonymous tracts ; lists of manuscripts and mini-entries on extremely obscure authors (alchemists and cabbalists, in particular); entries alphabetically arranged, comprehensively indexed and cross-referenced
-- illustrious editorial team: 10 Supervising Editors (Marie-Luce Demonet, Emmanuel Faye, Luc Foisneau, Christiane Frémont, Thierry Gontier, Philippe Hamou, Sylvain Matton, Martine Pécharman, Jacob Schmutz, Carole Talon-Hugon) and 140 contributors, including the most respected international scholars in the field
--contributors include: Roger Ariew, Ann Blair, Michel Blay, Hubert Bost, Laurence W.B. Brockliss, Guido Canziani, Jean Céard, Antonella Del Prete, Philippe Desan, Dominique Descotes, Jean-Pierre Faye, Daniel Garber, Douglas M. Jesseph, Bernard Joly, Neil Kenny, Jacqueline Lichtenstein, Noel Malcolm, Antony McKenna, Franck Lessay, Denis Moreau, Steven Nadler, Laurence M. Principe, Jean Rohou, Tad M. Schmaltz, Jean-Luc Solère, Jean-Fabien Spitz, Jean-Claude Vuillemin 
More details on the book : 

2 vols
1314 pages
HB 978 0 8264 1861 6
Publisher : Thoemmes-Continuum
Publication date : (UK) October 2008 (US) December 2008
$795/£395
Special introductory price of $700/£350 (until December 31, 2008)
UK and ROW
Alison Silver : Continuum, The Tower Building, 11 York Road, London SE1 7NX, UK
Email : asilver@continuumbooks.com

North, Central and South America : Abigail Cox, Continuum, 80 Maiden Lane, Suite 704, New York, NY 10038, USA
Email : abigail@continuum-books.com