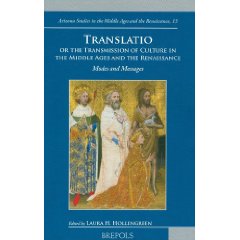 L. H. Hollengreen (dir.), Translatio or the Transmission of Culture in the Middle Ages And Renaissance: Modes and Messages
Brepols Publishers
EAN: 9782503518923
Date de publication : 0 mars 2009
Information publiée le 13 avril 2009 par
Laurent Angard
(source : Brepols Publishers)
Translatio, or the Transmission of Culture in the Middle Ages and the Renaissance
Sous la direction de Laura H. Hollengreen
Turnhout: Brepols, coll. "Arizona Studies in the Middle Ages and the Renaissance" n° 13, 2009, 200p.
Editeur : Brepols Publishers (mars 2009)
Langue : Anglais
ISBN-13: 978-2503518923
Prix : 53 €
Relié: 200 pages
Présentation de l'éditeur:
This volume presents an impressive array of instances of culturaltranslation between nations, religions, languages, genres, and media.It spans a chronological period that extends from late antiquity to thesixteenth century. Translatio, or the Transmission of Culture analysesmultiple forms of cultural transmission — the ancient and medieval artsof memory, the propagation of saints' cults, mechanisms of social andspiritual discipline, and the foundations of national identity — tooffer a rich investigation into the formulation of cultural influencein the Middle Ages and the Renaissance. It explores the materials,methods, and contexts of translation through traditional philologicaland historical practices, as well as foregrounding provocative newreadings of familiar sources influenced by recent research intocognition, ideology, and gender. With something for both the seasonedscholar and the student, Translatio, or the Transmission of Culturereveals some of the processes by which meaning is re-made in thepresent from the materials of the past.
Adresse : Begijnhof 67 B-2300 Turnhout (Belgium) Tel. +32 14 448 020 Fax +32 14 428 919