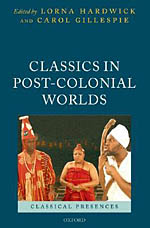 L. Hardwick, C. Gillespie (ed.), Classics in Post-Colonial Worlds.
Information publiée le 6 août 2008 par Bérenger Boulay
Classics in Post-Colonial Worlds.
Sous la direction de Lorna Hardwick et Carol Gillespie
Oxford: Oxford University Press, coll. "Classical Presences", 2007, xv-422p.
Isbn (ean13): 978-0-19-929610-7.
Compte rendu par Rachel D. Friedman (Vassar College) dans Bryn Mawr Classical Review: 2008.08.05


Présentation de l'éditeur:
Classical material was traditionally used toexpress colonial authority, but it was also appropriated by imperialsubjects to become first a means of challenging colonialism and then arich field for creating cultural identities that blend the old and thenew. Nobel prize-winners such as Derek Walcott and Seamus Heaney haverewritten classical material in their own cultural idioms while publicsculpture in southern Africa draws on Greek and Roman motifs torepresent histories of African resistance and liberation. Thesedevelopments are explored in this collection of essays by internationalscholars, who debate the relationship between the culture of Greece andRome and the changes that have followed the end of colonial empires.
Sommaire:

Introduction, Lorna Hardwick
1. Case Studies Trojan Women in Yorubaland: Femi Osofisan's Women of Owu, Felix Budelmann Antigone's Boat: The Colonial and the Post-colonial in Tegonni: An African Antigone, by Femi Osofisan, Barbara Goff Antigone and her African Sisters: West African Versions of a Greek Original, James Gibbs Cross-Cultural Bonds Between Ancient Greece and Africa: Implications for Contemporary Staging Practices, John Djisenu The Curse of the Canon: Ola Rotimi's The Gods Are Not to Blame, Michael Simpson Post-Apartheid Electra: In the City of Paradise, Elke Steinmeyer Sculpture at Heroes' Acre, Harare, Zimbabwe: Classical Influences?, Jessie Maritz
2. Encounter and New Traditions
Perspectives on Post-Colonialism in South Africa: The Voortrekker Monument's Classical Heritage, Richard Evans Imperial Reflections: The Post-Colonial Verse-Novel as Post-Epic, Katharine Burkitt A Divided Child, or Derek Walcott's Post-Colonial Philology, Cashman Kerr Prince Arriving Backwards: The Return of The Odyssey in the English-Speaking Caribbean, Emily Greenwood `If you are a woman': Theatrical Wominizing in Sophocles' Antigone and Fugard, Kani, and Ntshona's The Island, Rush Rehm Finding a Post-colonial Voice for Antigone: Seamus Heaney's Burial at Thebes, Stephen E. Wilmer
3. Challenging Theory: Framing Further Questions
`The same kind of smile': About the `Use and Abuse' of Theory in Constructing the Classical Tradition, Freddy Decreus From the Peloponnesian War to the Iraq War: A Post-Liberal Reading of Greek Tragedy, Michiel Leezenberg Western Classics, Indian Classics: Postcolonial Contestations, Harish Trivedi Shades of Multilingualism and Multivocalism in Modern Performances of Greek Tragedy in Post-Colonial Contexts, Lorna Hardwick The Empire Never Ended, Ika Willis Another Architecture, David Richards