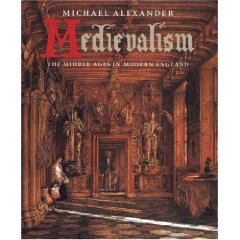 M. Alexander, Medievalism. The Middle Ages in Modern England
Information publiée le 18 septembre 2008 par Bérenger Boulay
Michael Alexander, Medievalism. The Middle Ages in Modern England, New Haven and London: Yale University Press, 2007, Pp.
xxviii-306p. 
Isbn (ean13): 9780300110616.
Recension de cet ouvrage par Marysa Demoor (Ghent University, Belgium) dans The Medieval Review (TMR 08.09.16, BMR-L Digest, Vol 20, Issue 24) : http://quod.lib.umich.edu:80/t/tmr/

Présentation de l'éditeur:
The style of the medieval period, which flows through thebloodstream of western culture, was vigorously re-established inpost-Enlightenment England. This one-volume history of the MedievalRevival is the first coherent account of it, especially those aspectsthat are expressed and reflected in literature. The book focuses on theperiod 1760 to 1971, with an Epilogue on the reverberations ofmedievalism in the present day.

The rebuilding of thePalace of Westminster, after its destruction by fire in 1834,re-established Gothic as the national style. But medieval imitationmanifests itself wherever one cares to look: in literature,architecture, the applied arts, religion, politics, and even Hollywood.In this skilled dissection of the components of this pervasive culturalmovement, Michael Alexander rejects the idea that medievalism wasconfined to the Victorian period, and overturns the suspicion that itis by its nature escapist.
Michael Alexander was professor of English, St. AndrewsUniversity. Among his publications are translations and editions of Oldand Middle English literature, and A History of English Literature.