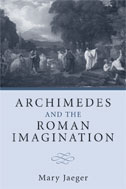 M. Jaeger, Archimedes and the Roman Imagination.
The University of Michigan Press
EAN: 9780472116300
Mary Jaeger, Archimedes and the Roman Imagination. Ann Arbor: The University of Michigan Press, 2008, ix-230 p.

 Isbn (ean13):978-0-472-11630-0.
$65.00.

Onpeut lire uncompte rendu de cet ouvrage dans la BrynMawr Classical Review
Présentation de l'éditeur
The great mathematicianArchimedes, a Sicilian Greek whose machines defended Syracuse against the Romans during theSecond Punic War, was killed by a Roman after the city fell, yet it is largelyRoman sources, and Greek texts aimed at Roman audiences, that preserve thestories about him. Archimedes' story, Mary Jaeger argues, thus becomes a locuswhere writers explore the intersection of Greek and Roman culture, and as suchit plays an important role in Roman self-definition. Jaeger uses the biographyof Archimedes as a hermeneutic tool, providing insight into the construction ofthe traditional historical narrative about the Roman conquest of the Greekworld and the Greek cultural invasion of Rome.
By breaking down thenarrative of Archimedes' life and examining how the various anecdotes thatcomprise it are embedded in their contexts, the book offers fresh readings ofpassages from both well-known and less-studied authors, including Polybius,Cicero, Livy, Vitruvius, Plutarch, Silius Italicus, Valerius Maximus, JohannesTzetzes, and Petrarch.
MaryJaeger isProfessor of Classics at the University of Oregon and author of Livy'sWritten Rome(University of Michigan Press, 1998).

Table des matières  
Introduction 1

PART ONE
1. The "Eureka" Story 17
2. Cicero at Archimedes' Tomb 32
3. Why Two Spheres? 48
Coda to Part One. The Afterlife of the
Spheres from the De republica 69

PART TWO
A Sketch of Events at Syracuse 75
4. Who Killed Archimedes? 77
5. The Defense of Syracuse 101
Coda to Part Two. Claudian on Archimedes 123

PART THREE
6. Petrarch's Archimedes 131
Conclusion 149
Notes 157 Bibliography 209 Index 225