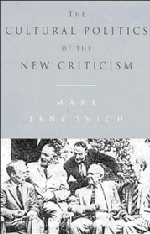 M. Jancovich, The Cultural Politics of the New Criticism
JANCOVICH, Mark, The Cultural Politics of the New Criticism, Cambridge University Press, 2006, 232 pp.
ISBN : 9780521034845 
In this book, Mark Jancovich concentrates on the works of three leading American writers - Robert Penn Warren, John Crowe Ransom and Allen Tate - in order to examine the development of the New Criticism during the late 1920s and early 1930s, and its establishment within the academy in the late 1930s and 1940s. This critical movement managed to transform the teaching and study of English through a series of essays published in journals such as the Southern Review and the Kenyon Review. Jancovich argues that the New Criticism was not an example of bourgeois individualism, as previously held, but that it sprang from a critique of modern capitalist society developed by pre-capitalist classes within the American South. In the process, he clarifies the distinctions between the aims of these three Southern poets from those of the next 'generation' of New Critics such as Cleanth Brooks, Warren and Welleck, and Wimsatt and Beardsley. He also claims that the failure on the part of most contemporary critics to identify the movement's ideological origins and aims has usually meant that these critics continue to operate within the very professional terms of reference established through the New Critical transformations of the academy.
CONTENTS :
Part I. The New Criticism and its Critics: 1. Contemporary responses to the New Criticism; 2. The historical context of the New Criticism; 3. Before the New Criticism; Conclusion;
Part II. The Formation of the New Criticism: Introduction; 4. John Crowe Ransom: the social relations of aesthetic activity; 5. Allen Tate: the social organisation of literature; 6. Robert Penn Warren: against propaganda and irresponsibility; Conclusion: the analysis of a Southern poet;
Part III. The Establishment of the New Criticism: Introduction; 7. The origins of academic involvement; 8. Understanding literature: textbooks and the distribution of the New Criticism; 9. The form of criticism;
Part IV. The Development of the New Criticism: Introduction; 10. John Crowe Ransom: the isolation of aesthetic activity; 11. Allen Tate: the man of letters and the cold war; 12. Robert Penn Warren: literature and social engagement;
Part V. Conclusion: Modernism and Postmodernism Within the American Academy: Introduction; 13. The professionalization of literary study; 14. The New Critical intervention; 15. Cultural criticism and postmodernity; Conclusion; Notes; Bibliography; Index.