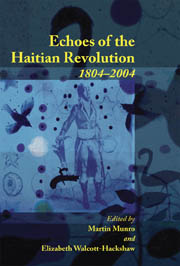 M. Munro & E. Walcott-Hackshaw (eds.), Echoes of the Haitian Revolution
UWI Press
EAN: 9789766402129
Echoes of the Haitian Revolution 1804-2004
Martin Munro and Elizabeth Walcott-Hackshaw (eds.)
UWI Press, 2009

ISBN : 978-976-640-212-9 ($30.00)
The bicentenary of Haitian independence in 2004 triggered a renewed interest in Haitian history and culture. Reinterpreting the Haitian Revolution and Its Cultural Aftershocks,
the first collection of essays edited by Martin Munro and Elizabeth Walcott-Hackshaw, addressed the repercussions of the Haitian Revolution in Haiti, the Caribbean, North America and Europe. This new volume develops and complements the previous collection to meet the growing demand for original scholarly work on Haiti. Widening the critical perspective to incorporate diasporic studies, American historiography, visual art, contemporary Haitian literature, evolving representations and uses of Toussaint Louverture, and questions of race and gender, Echoes of the Haitian Revolution demonstrates, among other things, how the history of Haiti has shaped ideas of race, nation and civilization in the Caribbean and beyond.
Contributors: Edward Baptist, Nathalie Dessens, Charles Forsdick, Kathleen Gyssels, Brenna Munro, Martin Munro, Adlai Murdoch, William Scott, Wendy Sutherland, Elizabeth Walcott-Hackshaw, Carolyn Williams
Martin Munro is Associate Professor of French and Francophone Literature at Florida State University. He is the author of Shaping and Reshaping the Caribbean: The Work of Aimé Césaire and René Depestre and Exile and Post-1946 Haitian Literature: Alexis, Depestre, Ollivier, Laferrière, Danticat. He is a member of the Small Axe editorial collective, and is currently working on rhythm in New World cultures.
Elizabeth Walcott-Hackshaw is Lecturer of Francophone Caribbean Literature and Nineteenth-century French Poetry at the University of the West Indies, Trinidad and Tobago. She is the author of articles on the Caribbean cultural
landscape as presented in the works of Gisèle Pineau, Yanick Lahens, Edwidge Danticat and Marie Chauvet. Her first collection of short stories, Four Taxis Facing North, was published in 2007.
For orders from the USA:
Longleaf Services, Inc.
P.O. Box 8895
Chapel Hill, NC 27515-8895
Tel: (800) 848-6224
Fax: (800) 272-6817
e-mail: customerservice@longleafservices.org
For orders from Europe:
Eurospan Group
3 Henrietta Street
Covent Garden
London WC2E BLU
United Kingdom
Tel: +44 (0)207 240 0856
Fax: +44 (0)207 378 0609
e-mail: info@eurospan.co.uk
Adresse : Dept of Modern Languages Florida State University