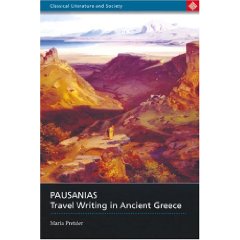 M. Pretzler, Pausanias: Travel Writing in Ancient Greece
Duckworth, coll. "Classical Literature and Society"
EAN: 9780715634967

Maria Pretzler, Pausanias: Travel Writing in Ancient Greece, London:  Duckworth, coll. "Classical Literature and Society", 2007. xiii, 225 pages.
ISBN 9780715634967
$18.00 (pb)  
Recension par William Hutton (College of William & Mary) dans Bryn Mawr Classical Review 2009.02.24.
Présentation de l'éditeur:
In this book, Maria Pretzler combines a thorough introduction toPausanias with exciting new perspectives. She considers the process andinfluences that shaped the "Periegesis", and maps out its literary andcultural context. Pausanias' text records contemporary interpretationsof monuments and traditions, and is concerned with the identity andhistory of Greece, issues that were crucial concerns for Greeks underRoman rule. Parallels with various texts of the period offer insightsinto Pausanias' attitudes as well as illustrating important aspects ofSecond Sophistic culture. A discussion of Greek texts that deal withfictional or actual travel experiences provides a background for adetailed study of the Periegesis as travel literature. Pausanias'treatment of geography and his descriptions of landscapes, cities andartworks are considered in detail, and there is also a study of hismethods as a historian. The final chapters deal with Pausanias' impacton modern approaches to Greece and ancient Greek culture.
Maria Pretzler is Lecturer in Ancient History at the University of Wales, Swansea.
Extraits en ligne sur amazon.com.