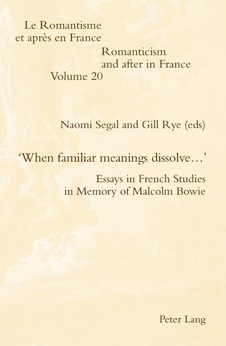 N. Segal, G. Rye (dir.), 'When familiar meanings dissolve.': Essays in French Studies in Memory of Malcolm Bowie
EAN: 9783034301084
Date de publication : 0 novembre 2011
Information publiée le 21 novembre 2011 par
Vincent Ferré
(source : Francofil (Gill Rye))
Naomi Segal,  Gill Rye (éd.), 'When familiar meanings dissolve...': Essays in French Studies in Memory of Malcolm Bowie

Oxford, Bern, Berlin, ..., Peter Lang, coll "Romanticism and after in France/Le Romantisme et après en France", 2011
Isbn 13 (ean): 9783034301084
XIV, 381 pp

This volume commemorates the work of Malcolm Bowie, who died in 2007. It includes selected papers drawn from the conference held in his memory at the Institute of Germanic & Romance Studies, University of London, in May 2008, inspired by his work in nineteenth- and twentieth-century French literature. Malcolm Bowie was instrumental in shaping French studies in the United Kingdom into the interdisciplinary field it now is. The contributions to this collection are grouped around Bowie's principal interests and specialisms: poetry, Proust, theory, visual art and music. The book is, however, more than a memorial to Malcolm Bowie's work and legacy. In its inclusion of work by established and eminent members of the academic profession as well as new and emerging scholars, it is also a showcase for cutting-edge work in French studies in the United Kingdom and beyond.


- Michael Worton: Introduction
- Marina Warner: Strange Tongues: Mallarmé in the English Nursery, Beckett in Babel
- Michael Sheringham: Pierre Alferi and the Poetics of the Dissolve: Film and Visual Media in Sentimentale Journée
- Adam Watt: 'Langage tangage': Poetic Instability in Mallarmé, Valéry and Leiris
- Natasha Grigorian: Hercules as the Monstrous Hero: The Interplay of Shifting Meanings in Gustave Moreau and José-Maria de Heredia
- Katherine Lunn-Rockliffe: Victor Hugo's Changing Constellations in 'À la fenêtre pendant la nuit'
- Patrick O'Donovan: The Time of Vigny
- Hugues Azérad: Poets as Jugglers of the Concrete: Édouard Glissant, Pierre Reverdy and Modernist Aesthetics
- Joseph Acquisto: Cross-referencing Bowie: Layers, Networks and Music in Mallarmé and Proust
- Carol J. Murphy: Reading Bowie Reading Proust
- Akane Kawakami: When the Unfamiliar becomes Familiar...? Proust, Planes and Modernity
- Kathy McIlvenny: Proust and the Indirections of Desire: Third-Party Involvement in the Love Relationships of À la Recherche du temps perdu
- Gabrielle Townsend: Dissolving the Familiar: Le Port de Carquethuit and Metaphor
- Áine Larkin: Suspect Surfaces and Depths: Radiographic Images, Perception and Memory
- Kathrin Yacavone: The 'Scattered' Proust: On Barthes's Reading of the Recherche
- Alison Finch: The French Concept of 'Influence'
- Henriette Korthals Altes: The Sublime Revisited: Theory as Fiction in the Essays of Pascal Quignard
- Philip Dravers: Lituraterre: Between Writing and Speech and the Discourse of a Master
- Mary Orr: Epitaphs on Stones: Louis Bouilhet's Les Fossiles and the Afterlife of Memory
- Johanna Malt: Sartre, Lacan and the Surface of Modern Sculpture
- Roland-François Lack: 'Echoes of the Horn': Intertextual Variations on Vigny
- Timothy Mathews: Afterword.
Naomi Segal is Professorial Fellow at Birkbeck, University of London. From 2004 to 2011 she was founding director of the Institute of Germanic & Romance Studies. She has served on or chaired many national and international committees. She has published over seventy articles and twelve books, of which the most recent are Consensuality: Didier Anzieu, Gender and the Sense of Touch (2009), Indeterminate Bodies (2003), Le Désir à l'OEuvre (2000) and André Gide: Pederasty and Pedagogy (1998).
Gill Rye is Professor Emerita and Associate Fellow at the Institute of Germanic & Romance Studies, University of London, where she is director of the Centre for the Study of Contemporary Women's Writing. She is author of Narratives of Mothering (2009), Reading for Change (2001) and numerous articles and chapters on women's writing. She was managing editor of the Journal of Romance Studies from 2000 until 2010.