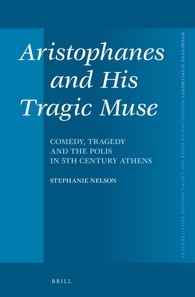 S. Nelson, Aristophanes and His Tragic Muse. Comedy, Tragedy and the Polis in the 5th Century Athens
Brill, coll. "Mnemosyne, Supplements"
EAN: 9789004310902
Date de publication : 0 février 2016
Stephanie Nelson, Aristophanes and His Tragic Muse. Comedy, Tragedy and the Polis in the 5th Century Athens
Boston: Brill, coll.«Mnemosyne, Supplements», 2016.
EAN13: 9789004310902/ E-ISBN: 9789004310919
135.00 EUR
Présentation de l'éditeur
Despite the many studies of Greek comedy and tragedy separately, scholarship has generally neglected the relation of the two. And yet the genres developed together, were performed together, and influenced each other to the extent of becoming polar opposites. In Aristophanes and His Tragic Muse, Stephanie Nelson considers this opposition through an analysis of how the genres developed, by looking at the tragic and comic elements in satyr drama, and by contrasting specific Aristophanes plays with tragedies on similar themes, such as the individual, the polis, and the gods. The study reveals that tragedy's focus on necessity and a quest for meaning complements a neglected but critical element in Athenian comedy: its interest in freedom, and the ambivalence of its incompatible visions of reality.
Stephanie Nelson, author of God and the Land: the metaphysics of farming in Hesiod and Vergil and of numerous papers on Joyce's Ulysses and the Odyssey, is Associate Professor of Classics and Director of the Core Curriculum at Boston University.
Table des matières
Contents
Acknowledgements
Introduction
1 The Festivals and Genre
2 The Comic and the Serious
3 Overview: A Developmental Study

1 Comedy and Tragedy in Athens
1 The Development of Comedy and Tragedy
2 Masks, Costumes, Choruses, Language, and Props
3 Comedy, Tragedy, and Euripides

2 Satyr Drama and the Cyclops: Where Tragedy and Comedy Meet
1 Comic Satyrs/Tragic Tales
2 Satyr Play: Net-Draggers, Festival-Goers, Trackers
3 The Cyclops

3 The Acharnians and the Paradox of the City
1 Tragedy, Comedy, and Politics
2 The Oresteia and the Bacchae: The City in a Greater Whole
3 The Double Vision of the Acharnians

4 The Wasps: Comic Heroes/Tragic Heroes
1 Comic and Tragic Consistency
2 Ajax and Medea: A Focus on Identity
3 Wasps: The Hero as Chameleon
4 Aristophanes and the Three Stooges: Pitying Your Betters, Envying Inferior Men

5 Oedipus Tyrannos and the Knights: Oracles, Divine and Human
1 Oedipus Tyrannos: Human and Divine Meaning
2 The Human Oracles of the Knights
3 Hidden Meanings and the Rejuvenation of Demos
4 Comedy and Carnival or Tragedy Upside Down

6 Persians, Peace, and Birds: God and Man in Wartime
1 The Persians: War, Empire, and the Divine
2 The Peace: Finding a God for Athens
3 The Birds: An Athenian on Olympus

7 Women at the Thesmophoria and Frogs: Aristophanes on Tragedy and Comedy
1 Parody, Metatheater, and Dialogue
2 Women at the Thesmophoria: Comedy and Tragedy Talk
3 Frogs: Comedy—and Tragedy—Save the City

Conclusion: The Dionysia's Many Voices

Synopses
Glossary
Bibliography
Index